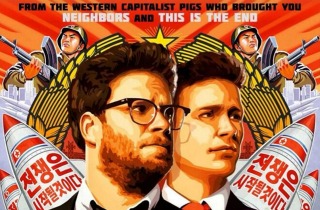 A long time ago last December, an occasionally funny film called The Interview nearly started World War III when it enraged some entity — perhaps North Korea, perhaps not — enough to compel a hacking of Sony Studios. Important people lost their jobs, theaters were threatened, an antique industry peered into the abyss of direct-to-streaming releases, and, worst of all, hot takes were written.
Now it's all the subject of a documentary from filmmaking duo Jehane Noujaim and Karim Amer, who plan to question the semi-official line that North Korea was behind the cyberattack. A shadowy group called Guardians of Peace claimed responsibility for the hack, but it remains unclear whether they were operating at the behest of the rogue (and touchy) regime; some maintain the hack was an inside job using the film's controversy as cover. (The U.S. reportedly retaliated against North Korea anyway.)
Will the also-touchy Sony cooperate with the doc? Via The Hollywood Reporter:
Amer and Noujaim, whose The Square chronicled the 2011 Egyptian Revolution and won three Emmys, already were working on a doc about international cyberattacks when the Sony story began unfolding, and they decided to use that hack — one of the largest and most damaging in corporate history — as an entry point for a broader look at the phenomenon of cyber aggression. But sources say that when John Sloss, whose Cinetic Media repped The Square at Sundance two years ago, approached several power brokers entangled in the hack about speaking on camera, he repeatedly was rebuffed.

"The Sony story is an important chapter in this larger issue," says Amer, who declined to discuss any roadblocks encountered or the film's narrative specifics. "The analysts and experts we speak to see it as the 9/11 of cyberattacks, and the implications will be felt for years to come."
In addition to wrecking the film's release, the hack exposed glaring gender gaps in movie star pay, and got some Sony execs in trouble for racist comments about President Barack Obama.
In the end The Interview ended up being sold through online merchants like Netflix and YouTube and screened in a variety of indie theaters. Early reports had it that Sony was set to lose $30 million on the debacle. Maybe they can release the documentary and make it back.
[Image via screengrab]
——
>> Follow Evan McMurry (@evanmcmurry) on Twitter
Have a tip we should know? [email protected]