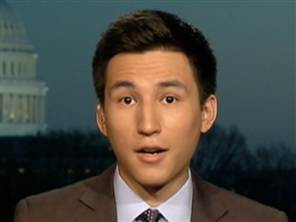 There's a fascinating inside-blogger-baseball conflict currently playing out between ThinkProgress blogger Lee Fang and Levi Russell, Director of Public Affairs for Koch Brothers-funded Americans For Prosperity. Russell accused Fang of, among other things, misrepresenting himself as a student to gain access to AFP's Defending The American Dream conference last weekend. Fang has audio that proves otherwise, audio that Russell didn't know was being recorded at the time.
The reason for the animus is clear enough. ThinkProgress is the blogging arm for the Center For American Progress, which is about as diametrically opposed to the conservative Americans For Prosperity, and everything it stands for, as it gets. :owever, this seems like a particularly weak basis on which to fight a proxy war. From AFP:
Lee Fang, a blogger with "Think Progress," lied to event organizers about his residency and status in an attempt to gain media access to the Defending the American Dream Summit, held this past weekend at the Washington Convention Center.  Fang told Americans for Prosperity Foundation that he is a student "visiting from California," who "had to fly home tomorrow" and had really hoped to cover the event.

However, Fang is listed as a "resident of Prince George's County, Maryland" on his ThinkProgress author page. His wikipedia page says that he "attended college at the University of Maryland, College Park." Another blogger from ThinkProgress who requested credentials and was honest about his background was given a media pass.
On its face, this is a pretty minor complaint. Show me a reporter who's never tried to brazen his way past the gates to get a story, and I'll show you a reporter who isn't earning his paycheck. I once used a bottle cap (in lieu of a blue sticker) in my press credential to slip past the field-level security at Invesco Field during the 2008 Democratic Convention.
In this case, though, the central complaint isn't even true. Fang contacted Russell to ask for a correction, explaining that his author page was out of date, and reminding Russell that he had, in fact, identified himself as a ThinkProgress reporter. Russell refused.
According to Fang, in an email to Mediaite, "I called Levi Russell well before my post went up, and asked for a correction. I told him I incidentally have the audio, and tried to explain that he either had his facts wrong or didn't remember the event accurately."
Fang continued, "He told me outright: 'No, I'm not going to correct it' and said he has a 'clear memory' of what happened. He said twice that he wouldnt change anything in his post. I kind of had to post the audio at that point."
According to Fang, the audio was captured by a recorder he'd left running in his pocket after interviewing people outside the event, and Mr. Russell knew he was speaking to a journalist, so his comments were "on the record."
Even so, my first choice in a case like this would be not to use such "found audio," and my second choice would have been to secure Russell's permission to use it. However, as Fang points out, by refusing to issue a correction when confronted with the tape, AFP didn't really leave him any choice.
It's also worth noting that credentialing organizations normally don't release information about applicants, and since Fang didn't even get in, AFP's attack on him seems doubly gratuitous. I cover a lot of conservative events, but after this episode, I would think twice before applying for an AFP credential.
I spoke with Russell Wednesday morning, and asked if he would be making a correction based on the audio. He said, "We will be addressing this later today," and promised to email me when they did. As of this morning, neither of those things has happened.
Here's the audio that Lee Fang captured, from Think Progress: (transcript available here)
Have a tip we should know? tips@mediaite.com