This Exists: 2004 Shooting Solved Because LA Gang Member Tattooed A Drawing Of It On His Chest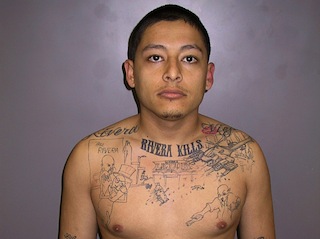 Here's a truly odd story. In 2004, a 23-year-old man was gunned down in an L.A. liquor store. There was no real movement in the case until 2008 when homicide investigator Kevin Lloyd was going through pictures of gang members and stumbled across one of Anthony Garcia who had tattooed a drawing of the crime scene (complete with the victim) onto his own chest. Clearly this was the greatest clue in a murder since the ghost of Lee Harvey Oswald recorded his famous "Shooter's Commentary" on the Zapruder FIlm DVD.
From the Los Angeles Times:
"Lloyd's discovery of the tattoo in 2008 launched a bizarre investigation that soon led to Anthony Garcia's arrest for the shooting. Then sheriff's detectives, posing as gang members, began talking to Garcia, 25, in his holding cell. They got a confession that this week led to a first-degree murder conviction in a killing investigators had once all but given up hope of solving.

…

A detective posing as a Los Angeles gang member who'd been arrested on attempted murder charges was placed in Garcia's Norwalk station jail cell. He soon got Garcia talking, sheriff's investigators said. Garcia was proud, and he bragged about the shooting. He didn't know the conversation was being recorded and that it would soon be played for a jury.

But perhaps it was all bound to end up this way, said Capt. Mike Parker.

'Think about it. He tattooed his confession on his chest. You have a degree of fate with this,' Parker said. 'The detective who spotted it had been a Pico sergeant who went on to become a homicide sergeant. I never worked Pico station. I never would have recognized that Pico liquor store.'"
Now, one of the most important things I've ever been taught is that, if you don't have anything nice to say about someone, don't say anything at all. This holds especially true if that someone is a murderer. So I'm gonna be a little cautious with my phrasing here.
It was an interesting idea Garcia had to have a tattoo made of a unsolved crime he committed. And it was a unique move to fill that tattoo with elements of the crime scene that only the police and the killer could know. And it was an intriguing plan of action to then brag about committing the murder to someone you've never met while in a holding cell for something else.
There, that was pretty diplomatic, right?
Now, if you'll excuse me, I'm home for Easter and I have to help out around the house. My grandfather's an artist and I'm helping frame some of his paintings. He is so talented. If any of you guys ever want something nice to hang up, he does the best paintings of Jimmy Hoffa or the Lindbergh Baby's bedroom.
(h/t Reddit)
Have a tip we should know? tips@mediaite.com