This Exists: In Wisconsin, Zombies Come Out In Protest Of Governor Scott Walker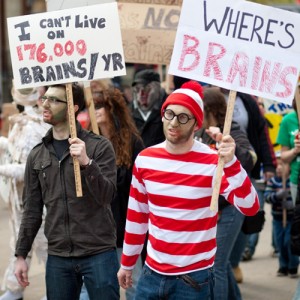 We've all been hearing myriad reports over the past few weeks of protesters demonstrating against Wisconsin Governor Scott Walker's controversial bill, which effectively limits bargaining rights for most of the state's unions.
We've learned what (for the most part) living, breathing humans on either side of the issue have had to say, but the media would be amiss were it not to seek comment from this nation's growing zombie population.
In Madison this weekend, several zombies very, very slowly ambled out into the streets to protest what at least one sign referred to as that "evil clown" Walker. (No Faygo for these protesters!) The zombies, holding signs and one another's hands (and feet and noses…) chanted "What do we want? BRAINS! When do we want them? BRAINS!" (The insinuation being, of course, that brains are difficult to come by among Wisconsin lawmakers backing the bill.)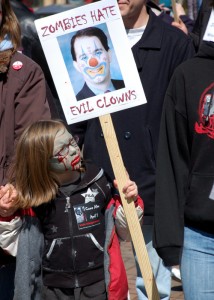 Other notable signs include "I can't live on 176,000 brains / yr" (poking fun at a recently released video showing Wisconsin Rep. Sean Duffy complaining about his $174,000 salary), a Where's Waldo-inspired character looking for a little gray matter, and a child rather creatively referencing the now-classic "I like turtles" meme. Who knew zombies had so many varied interests?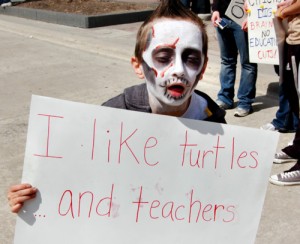 The question, of course, is whether dressing up in zombie face paint and carrying cute signs with pop culture references new and old will allow anyone to take your demonstration seriously. In any case: Hey! People are watching… you sleep.
Check out video of the demonstration, uploaded onto YouTube:
Have a tip we should know? tips@mediaite.com