'This Hearing SUCKS for Trump': Twitter Reacts to Comey's Testimony on Wiretaps, Russia Investigation
The U.S. House Intelligence Committee's meeting is still underway on Capitol Hill, though the consensus among media and political personalities is that President Trump is getting torn apart over some of his largest controversies.
FBI Director James Comey appeared before the panel on Monday, where he stated that he has not seen any evidence to back up the president's claim that Trump Tower was wiretapped by his predecessor, Barack Obama. Comey also said at this meeting that the FBI is conducting an active investigation into the implications that Trump's allies and members of his presidential campaign were in contact with Russian officials during the 2016 election.
Since Trump offered such a forceful prebuttal before the meeting, the Twitterverse is reacting with comments about how things aren't looking particularly good for him at the moment:
The house is on fire, Trump is running around with a box of matches, and the GOP demands to know who called the fire department.

— Garry Kasparov (@Kasparov63) March 20, 2017
This hearing SUCKS for Trump. Wow.

— Ben Shapiro (@benshapiro) March 20, 2017
The president's lies about wiretapping by Obama & the British is being blown to pieces by Dir Comey and Adm Rogers. pic.twitter.com/3xhwe5zs9K

— Mika Brzezinski (@morningmika) March 20, 2017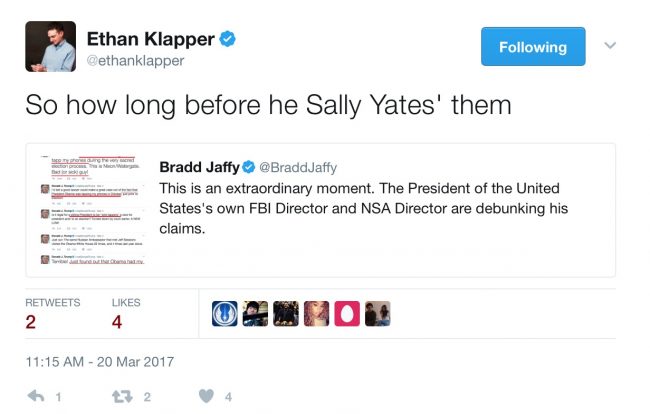 And with Comey's confirmation, President Trump is now left bare, without any shred of credibility. It is an unfortunate day in the Republic. https://t.co/ktExqg5acd

— Evan McMullin (@Evan_McMullin) March 20, 2017
If u thought Trump was an illegitimate President before, after this hearing, u think he is a lying, Russian-puppet, illigetimate President.

— Ana Navarro (@ananavarro) March 20, 2017
Intell hearing today – bottom lines so far: 1)Trump campaign under investigation and 2)Trump tweets about Obama are bogus.

— Eric Holder (@EricHolder) March 20, 2017
To believe Trump on wire-tapping at this point, you have to believe that James Comey is lying in a public Congressional hearing.

— Chris Cillizza (@TheFix) March 20, 2017
Sean Spicer, upon realizing he has to do another press briefing pic.twitter.com/SnUgMc6AFo

— john r stanton (@dcbigjohn) March 20, 2017
do u feel it donald … the walls closing in on u … dumb dum dum dumb @realDonaldTrump #itsOVER #criminal #treason

— ROSIE (@Rosie) March 20, 2017
.@POTUS In light of Comey's testimony, figured we'd fix this for you. pic.twitter.com/GtAUrvIsUQ

— Full Frontal (@FullFrontalSamB) March 20, 2017
[image via screengrab]
— —
>> Follow Ken Meyer (@KenMeyer91) on Twitter
Have a tip we should know? tips@mediaite.com