This Should Be Fun: Fox and Friends Declares Gawker Dying, Gawker Hits Back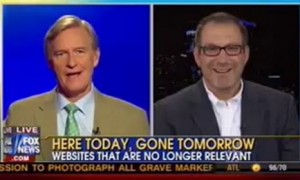 Fox & Friends' Steve Doocy hosted BreitbartTV Editor-in-Chief Larry O'Connor this morning to discuss reports of several popular websites that are now, supposedly, "dead or dying." The real target here, though, was obviously Gawker, who Fox says has lost 75% of its traffic since last year. You can almost audibly hear the axes grinding, as Fox extracts some payback for Gawker's unflattering coverage of Fox News, and O'Connor blames the whole thing on liberal hoity-toitiness. Gawker's Nick Denton immediately pushed back against the story.
Doocy introduced the spot more generally, talking about "trendy liberal and gossip sites" like Digg (trendy? Maybe to MySpace), but as he introduced BreitbartTV's Larry O'Connor, the focus narrowed to Gawker, whose John Cook has (coincidentally?)  been something of a thorn in the side of Fox News executives.
Breitbart's Larry O'Connor makes a few good points, noting correctly that websites like Digg have had their roles largely usurped by Facebook and Twitter. He also assured viewers that, while Gawker is in trouble, Andrew Breitbart's "Big" sites are "fine."
While dancing on Gawker's alleged grave, O'Connor noted criticism of things like the Gawker Stalker Map, and the site's alienation of New York Magazine's Vanessa Grigoriadis, which are apparently coming home to roost four years later. He also manages the neat trick of slamming Gawker's non-stop snark, while noting that it's "as predictable as the end of a Scooby-Doo cartoon," which is kind of like decrying junk food through a mouthful of Cheez Waffies™.
O'Connor also gets in a few shots at secondary target Salon.com, but the real prize here is unmistakably Gawker: (from Fox News)
If ever there was a perfect application for Benjamin Disraeli's famous quote about statistics, it would have to be to the measurement of internet traffic. There are more ways to measure it, and more services to do so, than you can shake a stick of indeterminate length at. Gawker founder Nick Denton immediately pushed back against the story, calling Fox "doofuses" (although I believe the correct plural form is "doofi"), and pointing his Twitter followers at a much rosier assessment from Quantcast, which shows Gawker's monthly unique visitors basically flat from a year ago, but page views way up.
Fox's report cited analytics from Compete.com, which, amusingly enough, shows Gawker in much better shape than the "Big" sites that Larry O'Connor says are "fine." While Gawker's traffic dipped significantly from January to April, it's unclear where Fox got their 75% figure.
Denton, for his part, isn't taking this lying down. He told Mediaite that Fox's attack was "amusing, adding, "Don't they realize that we thrive on a good media fight?"
Denton also said that, while he's "a huge admirer of the guy," Fox is "playing by a playbook as old as Ailes."
We obviously haven't heard the last of this feud.
Have a tip we should know? [email protected]