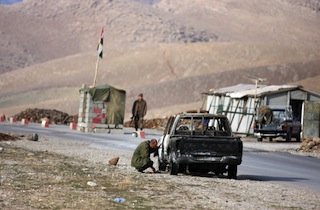 The rekindled crisis in Iraq, in which Sunni militants have spilled (back) over from Syria to overtake several large Iraqi cities and even threaten Baghdad, continued Tuesday night as the Iraqi government battled insurgents over control of the country's major oil refinery, while President Barack Obama considered a range of military and intelligence options. Below are the main developments of the past eighteen hours or so.

1. Obama Considering Highly Selective Drone Strikes Against ISIS (Maybe)
Obama is considering highly selective drone strikes against ISIS militants, more of the type used in counterterrorism operations in Yemen than those deployed previously in Iraq. The strikes are contingent upon the gathering of sufficient intelligence, and thus will not likely start for at least several days — indeed, some have suggested that without a U.S. presence on the ground it will be impossible to adequately pinpoint airstrikes. The New York Times described the difficulty of designing surgical strikes on the Sunni militants:
Much of the emphasis at the meeting, the official said, was on how to gather useful intelligence about the militants. They are not wearing uniforms or sleeping in barracks; and while there may be periodic convoys to strike, there are no columns of troops or vehicles.
2. ISIS Seizes Oil Refinery (Maybe)
In a dispiriting development, ISIS reportedly seized control of Iraq's foremost oil refinery, which supplies roughly one-quarter of the country's energy. However, as of Wednesday morning the Iraqi government said it had beaten the insurgents back, claiming to have killed anywhere from 40-60 militants to maintain control of the facility.
If the insurgents do overtake the refinery, it could have two significant consequences: giving ISIS a steady revenue stream and disrupting the power supply to the rest of the country.
3. Turkey Changes its Mind on Kurdish Self Rule (Maybe)
A spokesperson for Turkey's ruling Justice and Development Party hinted Tuesday evening that Kurds would have the right to self-rule depending upon the outcome of the current crisis. The comment was made in the context of a hypothetically-partitioned Iraq (Biden was right!), in which the country would be divided into a Sunni, Shia, and Kurdish tryptych. "The Kurds, like any other nation, will have the right to decide their fate," the AKP spokesman said. "The Kurds of Iraq can decide for themselves the name and type of the entity they are living in."
The Kurds, an ethnic group that has long lived in northern Iraq and Syria and southeastern Turkey, have been an extra variable in the various Iraqi crises, as various states have fought to maintain control over the land even as they sought to deny Kurds autonomy; the Kurds also faced the brunt of Saddam Hussein's despotism in the guise of brutal chemical weapons attacks. Turkey recently signed a 50-year oil agreement with Kurdish Iraq, and may now view the territory as a buffer against renewed violence in Iraq.
[Image via Sadik Gulec / Shutterstock.com]
——
>> Follow Evan McMurry (@evanmcmurry) on Twitter
Have a tip we should know? tips@mediaite.com