Tim Pawlenty's Quest For Internet Domination Continues With 'Facebook Town Hall'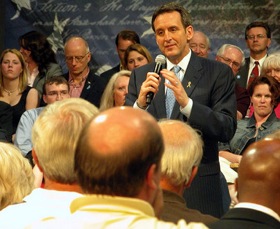 Say what you will about the man's charisma, but Tim Pawlenty gets the internet. The Minnesota governor his following up his CPAC happy hour with political bloggers with an online meeting with the American people on Sarah Palin's home turf: Facebook. Pawlenty will host the first of his "Facebook Town Hall" events to talk 2010 elections this Wednesday with any web user willing to log on.
According to CNN, Pawlenty will log onto Facebook and "deliver opening remarks" before taking questions on the midterm elections and how to maximize success for the Republican party. Pawlenty, according to spokesman Alex Conant, chose the online medium in order to reach people beyond his constituency:
"Gov. Pawlenty wants to use the latest technology and social networking tools to connect with more Americans and talk about the issues facing our country," Pawlenty spokesman Alex Conant said in an e-mail. "This will be like a regular town hall, except we'll be able to take questions from around the country thanks to new online tools."
So far Pawlenty only has 269 confirmed guests to the Facebook event, though chances are the numbers will increase significantly as word gets out (Pawlenty has an op-ed mentioning it in Big Government today). Given the current hostile political environment– astro-turfed or not– it's probably a good idea on Pawlenty's part to keep the meeting digital. As a governor, he has no real reason to address Congressional recess, so why open himself up to potential protest scandals needlessly? He's already taking enough of a risk by opening himself up to national criticism in a topic that, had he no obvious presidential aspirations, would be out of his range. The best part for him is that he puts in very little public risk in return for a possibly great reward. And if the project fails, it will have been away from the cameras, where no one can see his reaction.
[photo via]


Have a tip we should know? tips@mediaite.com