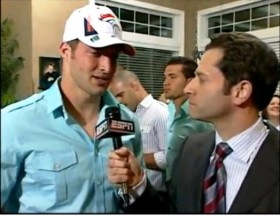 The Denver Broncos stunned the NFL last night by picking quarterback Tim Tebow 25th overall in the league's draft.
Although Tebow has had a highly decorated college career (one of the highest, in fact), the majority of NFL scouts and coaches say that Tebow lacks the technical ability to become even a serviceable NFL quarterback. Their expectations for his career are, in general, quite low.
It's a unique situation for a Heisman winner, who many consider to be the best college football player ever, to have his professional prospects cast in such a pessimistic light. Regardless, Denver coach Josh McDaniels stuck his neck out for Tebow, trading up to get him. Here was Tebow's reaction to being drafted:
Now comes the hard part. Although Tebow was a great player in college, many scouts think his throwing motion needs to be rebuilt from the ground up in order to be effective in the NFL. Since throwing is obviously an essential component of playing quarterback in the NFL, one would believe that the Broncos greatly overestimated Tebow's value.
Not according to Dan Shanoff, our resident Tebow expert, who thinks he is starting from the same place as any other young quarterback. "Given the complaints about his so-called limitations," Shanoff said, "Tebow has as good of a chance to maximize his talents as a starting QB in the NFL as any prospect."
Shanoff believes that Tim Tebow's renowned work ethic will make up for his perceived deficiencies, and the tutelage of McDaniels, known for his ability to get the most out of young quarterbacks, will expedite his growth.
"The short answer," he says, "is yes, he can be good. And given his resume, I would default that he will succeed, rather than fail."
The verdict on Tim Tebow, pro football player, likely won't be passed any time soon. But the ramifications of Tim Tebow, media phenomenon, are being felt right now.
Just ask Sam Bradford, the number one overall pick in the draft, who has been given a fraction of the attention Tebow has in the day following the draft. This is, conceivably, the first time the 25th pick in the draft has overshadowed the first. Such is the hype surrounding Tim Tebow, now officially a Huge Deal.
Have a tip we should know? tips@mediaite.com