TIME Cover Man Colbert Reflects on Being Viewed as Political 'Champion' on The Report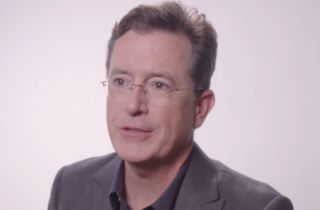 Stephen Colbert is on the cover of this week's Time Magazine, and within its pages he has a lot to say about ending his old show and starting his new one.
The whole thing isn't out yet, but pieces of Colbert's interview with James Poniewozik from the full interview (and parts edited out) appeared online today, and the new Late Show host reflects a lot on his life and showbiz career.
Colbert talked about why he felt ready to end The Colbert Report, saying, "It became very hard to watch punditry of any kind, of whatever political stripe. I wouldn't want anybody to mistake my comedy for engagement in punditry itself. And to change that expectation from an audience, or to change that need for me to be steeped in cable news and punditry, I had to actually leave."
And something that concerned Colbert about doing a very political character was people viewing him as some kind of political folk hero:
"People had [political] expectations early on in that show following the Correspondents' Dinner, which is why I almost never spoke about that," Colbert says, referring to his blistering takedown of President George W. Bush in 2006. "I didn't want people's expectations that I was anyone's champion to overcome our intention, which was comedy. I don't want to be anybody's champion. That doesn't sound funny."
As for The Late Show, Colbert teased that he's been working on a series of field pieces called "Who Am Me?" to allow the audience and himself to better learn who the real Stephen Colbert is, after years of playing a character.
You can watch a clip of Colbert talking to Time about The Report here:
[image via screengrab]
— —
Follow Josh Feldman on Twitter: @feldmaniac
Have a tip we should know? [email protected]
Josh Feldman - Senior Editor