TMZ Posts Photos of Devo Founder with 9/11 Wedding Cake; He Calls It a 'Set Up'
Jerry Casale, one of the founders of the band Devo, got married last Friday on September 11th, and TMZ yesterday posted photos online of a Twin Towers-themed wedding cake.
This is one of the pictures TMZ posted: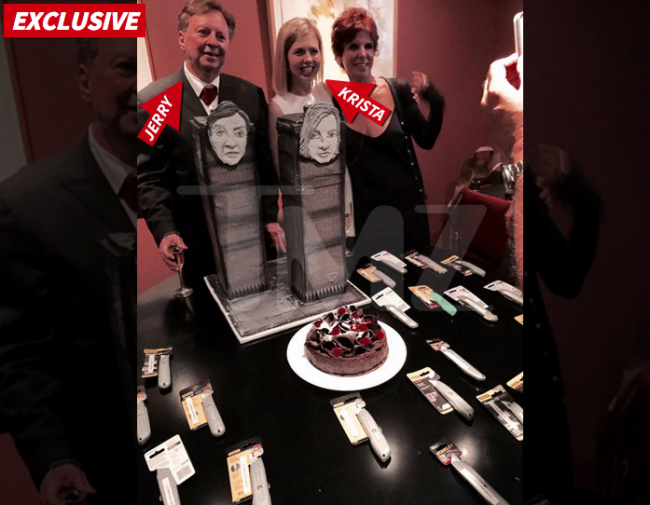 TMZ's report says that guests received box cutters as party favors and that both Casale and his wife Krista Napp liked it because they have a dark sense of humor.
But Casale said that doesn't tell the whole story:
Deep apologies for all offended. There is a real explanation and its not what you think. Surprise cake and pix to TMZ was a set up. TBC…

— Gerald Casale (@Gvc3Casale) September 15, 2015
He told Billboard it was a surprise to them, and argued that a wedding on September 11th symbolized a sort of FU to anyone trying to take down America.
And this is how Casale says he found out about the cake and party favors:
Casale said one friend who heard that explanation offered to take care of the cake and wound up surprising the couple after dinner with the controversial design and party favors.

The place settings, Casale noted, were at dinner, and while he thought "that was pretty nasty…we thought that the was the end of the reference." When it came time for dessert and they moved to a backroom, they saw there was still much more.

"He thought it was some sort of transgressive sick humor, and the problem is, it's not funny," Casale said of his friend who planned it all.
[image via TMZ]
— —
Follow Josh Feldman on Twitter: @feldmaniac
Have a tip we should know? [email protected]
Josh Feldman - Senior Editor