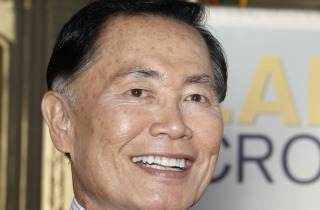 Last week, Rick Santorum and various figures endorsed the position of LGBT opponent Kim Davis by saying that her willingness to face jail time for her religious beliefs was comparable to Martin Luther King Jr..
Yesterday, actor and gay rights activist George Takei wrote a column for MSNBC, where he also compared Davis to a figure from civil rights era. However, Takei's description was much less flattering, for the figure he was reminded of was actually one of the most notorious opponents of King's movement, and a staunch believer in segregation.
"When I view her behavior, however, I am reminded of a different character from the early civil rights era: Gov. George Wallace of Alabama," Takei wrote:
When he took the oath of office, standing on the same spot where Jefferson Davis was inaugurated as the President of the Confederacy more than 100 years earlier, Wallace famously proclaimed, 'I draw the line in the dust and toss the gauntlet before the feet of tyranny, and I say segregation now, segregation tomorrow, segregation forever.'
Takei went on to say that the "belief system" that endorses and/or compares segregation to banning gay marriage is "illegal" in the sense that it implicitly works to deprive people of their rights.
Takei also noticed how Wallace embraced discrimination in order to have a base for re-election, and brought the comparison towards Mike Huckabee and Ted Cruz for their efforts to turn the "War on Christianity" into a conservative rallying point:
Imagine if instead of denying a license to a gay couple, Ms. Davis had sought on religious grounds to deny a license to an interracial couple. She likely would have been fired on the spot, and no politicians would have rushed to stand by her side, no matter what her sincerely held religious convictions were. Discrimination based on sexual orientation is headed to a similar, inevitable end in the dust heap of history.
[h/t Raw Story]
[Image via Joe Seer/Shutterstock]
— —
>> Follow Ken Meyer (@KenMeyer91) on Twitter
Have a tip we should know? tips@mediaite.com