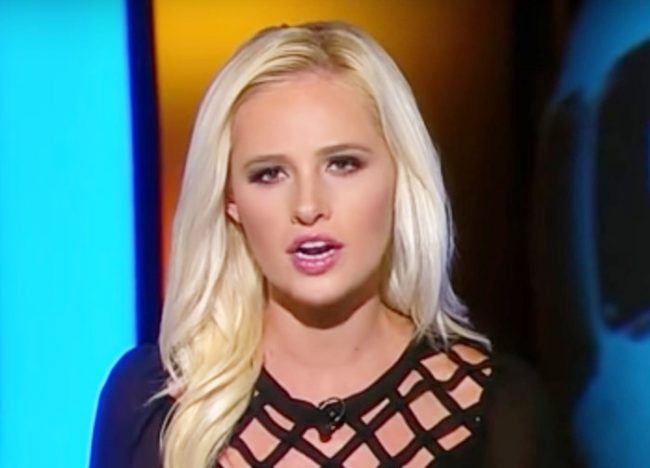 Tomi Lahren's relationship with rappers is complicated (in that it doesn't exist).
Last night, she got owned by Wale on Twitter, but it was just the most recent in a string of hip hop-related incidents in the conservative pundit's public life.
She said this…
I'm gonna take the advice of @Wale and just smile. ??

— Tomi Lahren (@TomiLahren) April 17, 2017
…and the "Lotus Flower Bomb" rapper responded with a spin on a classic joke:
Same phone who dis https://t.co/mrvnXtKFhM

— Wale (@Wale) April 17, 2017
Certainly, she was just trying to project an image of positivity after being countersued by employer Glenn Beck for suing him for wrongful termination. Technically, she still works at TheBlaze, where she rose to prominence with her biting viral commentary on Black Lives Matter and the Black Panthers, but that's an analysis for a different piece. Today, we're looking at her dealings with rappers.
See, this Twitter thing isn't Lahren's first dustup with Wale. Back in January, he released the song she referenced in last night's tweet — "Smile" — and got her name wrong when he dropped it mid-track. These are the lyrics in question:
On behalf of Charlamagne I'm sure he ain't trading sides
Maybe I should meet Tammy Lahren, I'll Lauryn Hill her
Train her; she miseducated anyway
Prolly hate the color of my face
Wale was referencing an interview Lahren did with radio personality Charlamagne Tha God in which she defended her opposition to Beyoncé's racially- and politically-charged performances. The "miseducated" line is a reference to Lauryn Hill's The Miseducation… album and likely Lahren's own admitted disinterest in reading and preference for speaking from an emotional place. The suggestion that she probably hates the color of Wale's face comes, of course, from her tirades against not only Beyoncé, but figures like Colin Kaepernick, both of whom have used their platforms to stand up against racism. (Spoiler alert: that's what a lot of rap is about, too.)
Wale's mispronunciation of her name in "Smile" was widely interpreted as a diss and when she called him out on Twitter, he doubled down with, "Ok Tammy."
Calling her Tammy turned into a joke online and soon commenters were responding to her tweets with quips like, "Ok Tonsils Legume," and, "Sure Tarantula Lasagna." She gave an explainer on Fox News on how to pronounce her name that didn't really stop the onslaught of jokes.
Now, Lahren and Charlamagne are known to be friendly even after their interview, but as her interactions with Wale prove, it's not all sunshine and daisies when it comes to her relationships with other rappers. After attacking Bey and Jay Z, Lahren found herself on the receiving end of one of Jay's disses. He sampled her disparaging him in one of her segments, leading her to — what else? — tweet about it like it was no big deal.
The fact remains that it is a big deal. She attacks Beyoncé and Kaepernick for being vocal advocates against racism, then praises Lil Wayne for not being a vocal advocate against racism, sending a signal that she likes people of color as long as they're not standing up for themselves. In a profile of Lahren done by the Dallas Morning News, it was revealed that she works out and brainstorms for her show while listening to rap, compounding that message with the idea that POC's work should be consumed only as apolitical entertainment. Bey can dance and sing and Kaep can throw the ball, but the minute they take a stand against police brutality or racial injustice, there's a problem. Therein lies the appeal of Wayne's anodyne comments or artists' pre-recorded tracks: they reinforce the idea that entertainment exists in a vacuum and black entertainers are not affected by the racism that is pervasive in American culture — or rather, they shouldn't be, as it might make white consumers uncomfortable.
For as much as she swears she loves rap and as often as she tries to be in on the joke on Twitter, Lahren can't get out from under the overarching implications of her "Final Thoughts" about communities of color and the ways in which they advocate for themselves. It's no surprise that rappers like Wale and Jay Z have rejected her attempts to play along with them when it suits her.
[image: screengrab]
Have a tip we should know? tips@mediaite.com