Tony Perkins: American 'Hostility' for Christians Gives Terrorists 'Green Light'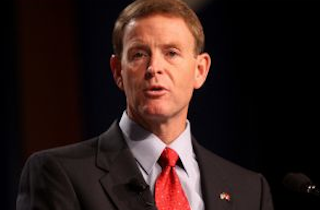 While speaking to the congregation at the First Baptist Church of Dallas, Family Research Council President Tony Perkins said that the increasing "hostility" towards Christians in America gives terrorists the go-ahead to commit atrocities abroad and here at home. Because if it's okay for the United States government to do it, then terrorists have "a green light."
Perkins was addressing last week's Supreme Court ruling on marriage equality, which the Christian right believes is an attack on their religious beliefs despite the ruling only applying to legal marriage and not what churches may or may not choose to do. (In other news, the Episcopal Church just voted to allow their clergy to perform same-sex marriages.) But Perkins, as well as others on the Christian right, believe that the recent incidents of religious business owners taking heat for refusing to provide services for gay customers in addition to the ruling on marriage equality indicate that the country is stepping away from Christian values and even discriminating against people for their religious beliefs. And if this is happening right here in America, then what's to stop the terrorists who hate Christians from killing them? Here is what Perkins said to the congregation:
"We have allowed our own government to send a message that Christians in America don't care about Christianity here at home. How could they possibly care about it in the Middle East? …

"We're not being asked to die for Christ in America. We're simply being asked to live for Christ in America. But when we as Christians here in America shrink back from living for Jesus and we tolerate our own government's hostility to Christianity, terrorists and tyrants in other governments will see that as a green light to persecute and to kill our brothers and sisters, and we cannot tolerate that as Americans."
Dramatic? Perhaps. But when there is a sea change in the values of America towards acceptance rather than discrimination, there needs to be a change in your talking points, too.
Watch below:
[h/t Right Wing Watch]
— —
Have a tip we should know? tips@mediaite.com