TPUSA Removes Chapter Leader Who Yelled 'White Power!' in Leaked Video: 'Comments Were Abhorrent'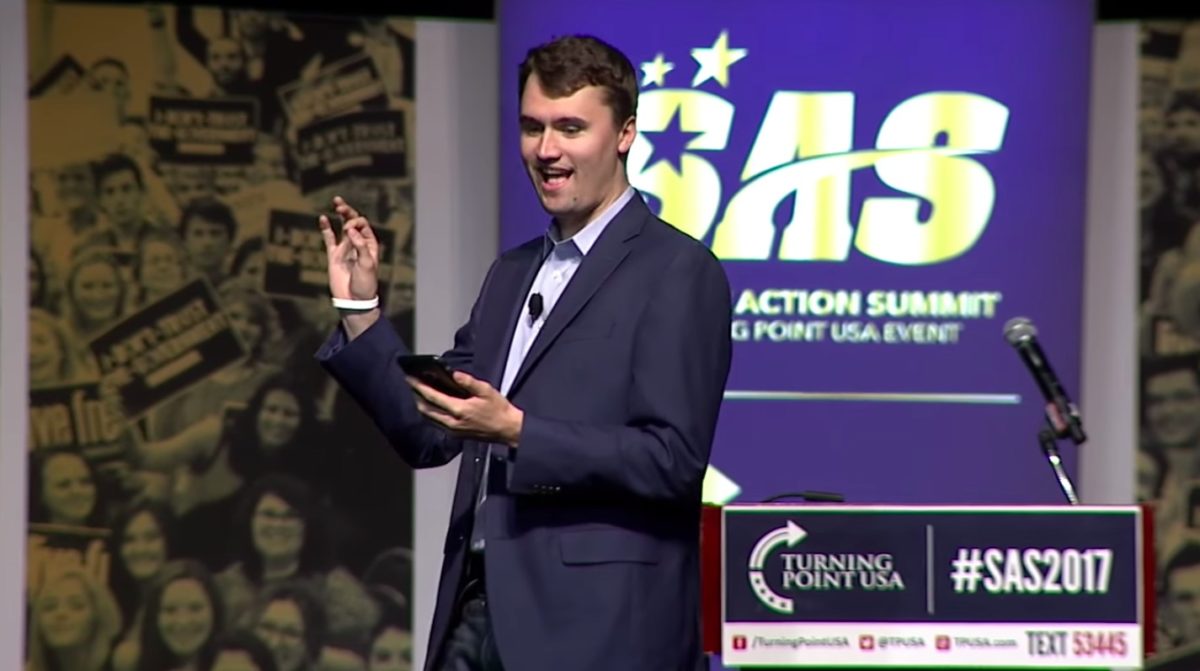 The right-wing youth group Turning Point USA was forced to remove a chapter president and condemn his "abhorrent" comments after he was caught praising "white power" on video.
"As soon as the video in question came to the attention of Turning Point USA staff, we swiftly and permanently removed the student from any current or future involvement with our organization," the non-profit wrote in a statement last night. "His comments were abhorrent, un-American, and disqualifying."
"As any large organization should, TPUSA has a zero-tolerance policy for hate, no matter the medium or how dated the act or comment, and we hold our tens of thousands of students to the highest of standards," they added.
In a video shared by the anti-fascist website It's Going Down News, Riley Grisar — the now-former TPUSA chapter president at the University of Nevada, Las Vegas — can be seen sitting in a hotel bed saying "white power" while giving the "OK" hand sign, presumably in reference to a white nationalist meme that reappropriates the "OK" sign to mean "white power." A white woman in the bed with him responds by saying, "We're gonna run the world! White Power! Fuck N*****s!"
In viral video, leader of #LasVegas chapter of Turning Point USA seen giving Alt-Right "OK" sign while friend screams, "We're gonna run the world! White Power! Fuck N*****s!" Was seen giving same hand sign at recent "Build the Wall" rally. CW: Racial Slurs https://t.co/f0IwuCWAsR pic.twitter.com/qcQIFTzk8i

— It's Going Down (@IGD_News) May 10, 2019
Grisar is far from the first racist controversy to hit TPUSA.
In 2017, the organization's second-in-command Crystal Clanton was fired for text messages in which she wrote, "I hate all black people. Like fuck them all… I hate blacks. End of story." A 2018 HuffPost report found numerous members of the organization have posted racial slurs and racist comments on Twitter, which led TPUSA to release a memo enforcing a stricter social media policy. During the group's 2017 conference, a former TPUSA activist who went on to work as a Trump surrogate in 2016 was caught praising Nazi Germany on video in a hotel room paid for by the organization.
[image via screengrab]
Have a tip we should know? tips@mediaite.com