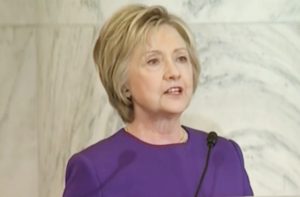 As a first lady, senator, secretary of state and Democratic nominee turned failed presidential candidate, much of Hillary Clinton's life and political career have simply been Clinton overcoming personal tragedy and sexism, both implicit and overt, by sheer force of character. She's never let the past define her, and as events of this past summer have shown, she isn't about to start.
According to a Friday Buzzfeed report, Clinton means business about the pro-Resistance political action committee, "Onward Together," that she launched in May — she's reportedly hiring two of her former campaign to help her run it. Those staffers are Adam Parkhomenko, who worked on her 2016 presidential campaign's grassroots engagement efforts, and Emmy Ruiz, who worked as the campaign's Colorado state director and more recently, worked on Tom Perez's successful bid for DNC chair.
Paired with Clinton's recent outspokenness on social media and on-the-ground efforts to promote her forthcoming memoir, What Happened, "Onward Together" is remarkable proof that not only is Clinton not going anywhere, but that "private citizen" Clinton may be the fiercest version of herself, yet.
Some of her nastiest tweets about President Trump — and the GOP — as evidence:
Not only is Clinton a failed presidential candidate despite dedicating decades of her life to public service, having all the qualifications, and winning the popular vote by some 3 million votes, but she's the least liked failed presidential candidate in recent history (which, I'm sure, has nothing to do with lingering patriarchal resentment of female leadership.) What else does she have to lose? Why not be outspoken, why not get loud, talk about sexism, Russia, criticize Trump, say whatever she feels like?
But naturally, Clinton's newfound "brazenness," if you could even it call it that, seems unselfish. She might not be in the Oval Office, but she's not comfortable on the sidelines, and that's why, by all means, she seems prepared to transform "Onward Together" into a powerhouse, one that will get progressives elected, one that will fight for the goals she once wanted to fight for as president.
At one point in her career, this post-election "fighting" for progress and grassroots mobilization might have gotten her hit for being a pandering "phony" obviously just seeking reelection. But now that she's most definitely not seeking reelection, she can fight this fight with everything she's got and shrug off the criticism she gets for this.
Of course, to an extent, criticism of Clinton for absorbing the limelight is valid. Democrats would be wiser to look to the future than to their past. But Clinton's wisdom and dedication are an asset to the party, nonetheless.
Too often we try to silence women for all kinds of reasons — being preachy feminists, being fake and inauthentic, being disliked. Their place is the kitchen, with no voice, with nothing at all in their own right.
Clinton lost the presidency. That's a fact. Now all she has left is fighting for what she thinks is right — no title, no popularity, no martyrdom. This is all she has. To suggest that she give it up is tantamount to metaphorically sending her back to the kitchen. And what a hateful — but ultimately classic — thing to do to a woman.
This is an opinion piece. The views expressed in this article are those of just the author.