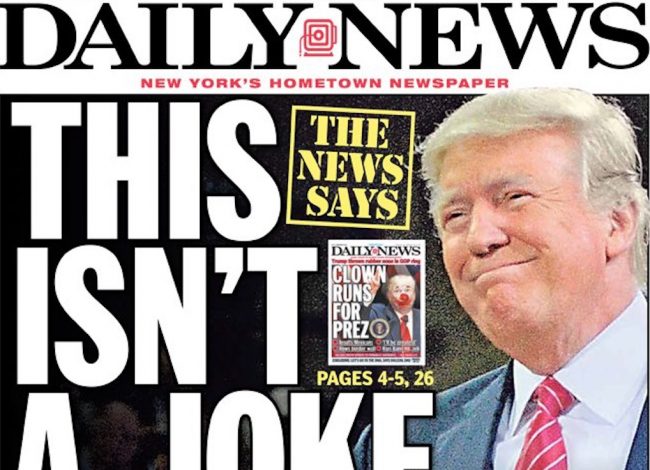 While Donald Trump often speaks of the "Failing New York Times" — it seems his fire may have been targeting the wrong paper.
On Labor Day news broke that Mort Zuckerman's actually failing Daily News would be sold to Tronc, which until recently was better know as Tribune Publishing.
Tronc made the announcement in a Labor Day press release.
In a sign of the times, the paper's straits are apparently so dire that Zuckerman is essentially giving the property to Tronc for free — on condition that the publisher assume the Daily News' liabilities.
As Brian Stelter reported, many of those liabilities take the form of pension commitments, believed to be in the tens of millions of dollars.
Tronc CEO Justin Dearborn struck a cheerful tone about the transaction.
"We are excited to welcome the New York Daily News team to the Tronc family, and we look forward to working with them to serve new audiences and marketers while delivering value for our shareholders," he said. "As part of the Tronc portfolio, the New York Daily News will provide us with another strategic platform for growing our digital business, expanding our reach and broadening our services for advertisers and marketers."
Though a Big Apple staple for almost a century, the Daily News has been buffeted by larger negative industry trends, including declining ad revenues and the fact that millennials don't know how to read a physical newspaper.
In 2015, the paper had a round of mass layoffs, a story which has become all too predictable in the "pivot to video" era.
While the Daily News has received plaudits from blue check Twitter for their provocative front page covers, blasting President Trump and his policies — it didn't seem to pay the rent.
Trump — for his part — is a known fan of the Daily News' chief rival, The New York Post.
[image via screengrab]  
Have a tip we should know? [email protected]