Trump Hits Mexico for Murders and Praises Limbaugh While Watching (and Tweeting) Fox and Friends
Once again, Donald Trump is treating the world to his morning live-tweets about his favorite TV show, Fox & Friends. And why wouldn't it be his favorite, when the segment above starts with co-host Pete Hegseth saying "every night is a reason to celebrate. You know, you live in Trump's America, life is good."
The show began on Tuesday with a discussion the president's threat to shut down the government if Congress doesn't come up with a new omnibus bill that gives funding for the southern border wall. Between the usual positive coverage of the president's demands, the curvy couch eventually turned to Rush Limbaugh, who praised the president on Monday for "showing he's not afraid of a government shutdown."
They played a clip from Limbaugh's show:
"The Republican base is Trump's now. It's not a bunch of populist nationalists, it's the mainstream of the Republican Party that's for Trump, and they hate this cowering before the Democrats in the media over government shutdowns. They hate giving up every policy idea in the face of the blackmail the government shutdown, so they love Trump saying he would be willing to do it over."
In what's surely a total coincidence, Trump had this to say shortly afterward on Twitter:
Rush Limbaugh is a great guy who truly gets it!

— Donald J. Trump (@realDonaldTrump) July 31, 2018
When Fox & Friends took back the reins, they discussed how Republican candidates need to embrace tough border security measures, and essentially made a pitch that voting for Republicans in the upcoming midterm elections is voting for America.
"If you support the border, you are supporting our country. That's what the Republican Party stands for," said Pete Hegseth. "It's a great message to run on and also a message worth having a showdown – whether it's a shutdown or not – showdown with the status quo."
From there, the show went on to talk about how much murder there is in Mexico.
"You want to know why the president is so strict about immigration and wanting that wall?" asked Ainsley Earhardt. "If you look at the murder rate in Mexico it went up dramatically in 2017."
They continued a bit more on murder and then hit recent protests against ICE by the political Left. Eventually, in another happy accident, Trump offered this bit of commentary:
One of the reasons we need Great Border Security is that Mexico's murder rate in 2017 increased by 27% to 31,174 people killed, a record! The Democrats want Open Borders. I want Maximum Border Security and respect for ICE and our great Law Enforcement Professionals! @FoxNews

— Donald J. Trump (@realDonaldTrump) July 31, 2018
How serendipitous.
Watch above, via Fox News.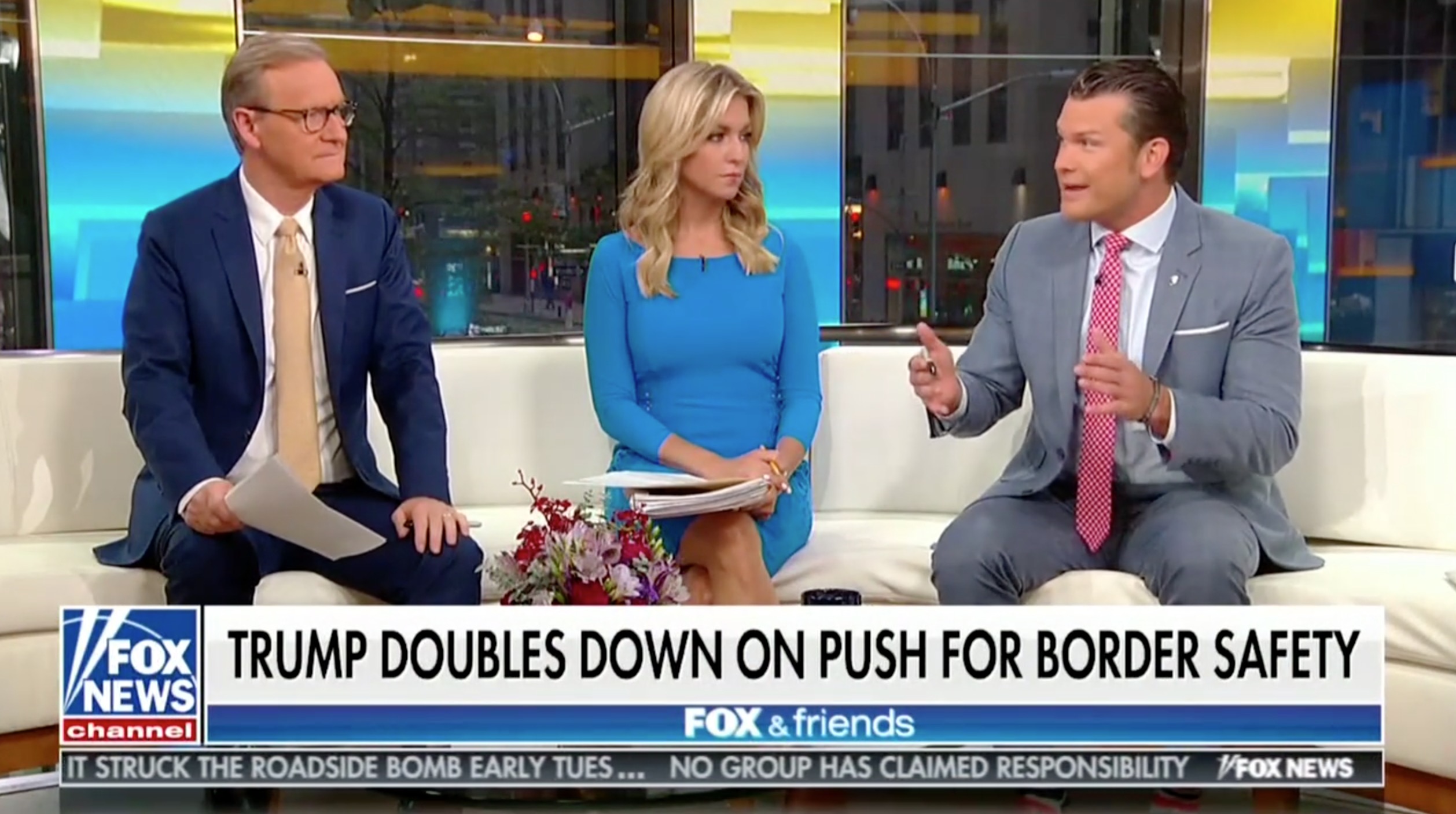 [Image via screengrab]
— —
>> Follow Ken Meyer (@KenMeyer91) on Twitter
Have a tip we should know? tips@mediaite.com