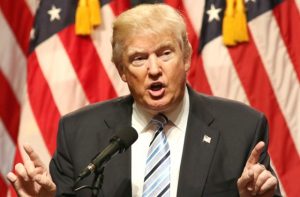 Time Magazine spoke with President-elect Donald Trump for its Person of the Year issue, and in it he makes it clear he still doesn't believe there was Russian interference in the election.
Trump made his position clear during the campaign, but in speaking to Time, he reiterated his belief:
For reasons that remain unclear, Trump still refuses to acknowledge the U.S. intelligence community's conclusion that Putin's agencies were responsible for stealing the Democratic National Committee and Clinton campaign emails released on WikiLeaks. "I don't believe it. I don't believe they interfered," Trump says. Asked if he thought the conclusion of America's spies was politically driven, Trump says, "I think so."
The head of the NSA said weeks ago there was a "conscious effort by a nation-state to attempt to achieve a specific effect," while House Democrats are now pushing legislation to officially look into potential Russian election hacking.
One of those Democrats, Congressman Adam Schiff, reacted to Trump's new remarks today by saying they're "concerning."
Rep Schiff to @halliejackson: Trump "knows better" than to say Russia wasn't involved in US election hacks. https://t.co/UhNDsAd07l

— Frank Thorp V (@frankthorp) December 7, 2016
He said there is "overwhelming evidence" of Russian hacking and by denying it, Trump is giving them "the most phenomenal cover." Schiff was also troubled by how this is going to make things "difficult" for the future when there is a crisis and the American people will expect their president to be upfront with them.
Watch above, via MSNBC.
[image via Shutterstock]
— —
Follow Josh Feldman on Twitter: @feldmaniac
Have a tip we should know? tips@mediaite.com
Josh Feldman - Senior Editor