Trump Reportedly Ranted About Haitian ('All Have AIDS') and Nigerian (Live in 'Huts') Immigrants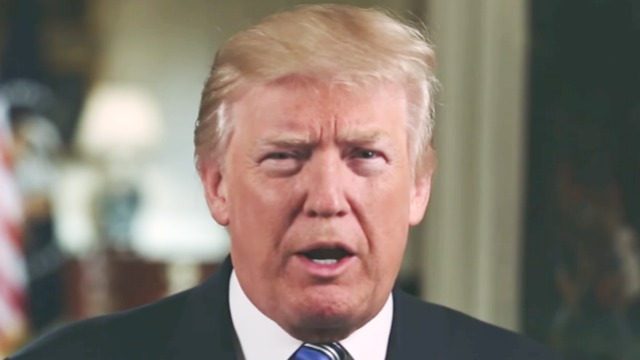 A new report from The New York Times reveals that President Trump has grumbled in private meetings about immigrants coming into the country.
And some of the details are a bit… shocking.
Per the Times, back in June Trump felt the number of foreigners coming into the U.S. was "making a mockery of his pledge" to crack down on immigration.
He read from a document on the numbers of immigrants coming into the country and said the following:
More than 2,500 were from Afghanistan, a terrorist haven, the president complained.

Haiti had sent 15,000 people. They "all have AIDS," he grumbled, according to one person who attended the meeting and another person who was briefed about it by a different person who was there.

Forty thousand had come from Nigeria, Mr. Trump added. Once they had seen the United States, they would never "go back to their huts" in Africa, recalled the two officials, who asked for anonymity to discuss a sensitive conversation in the Oval Office.
This was followed by an apparent spat between John Kelly & Stephen Miller and Rex Tillerson.
The White House pushed back hard on this report:
"General Kelly, General McMaster, Secretary Tillerson, Secretary Nielsen and all other senior staff actually in the meeting deny these outrageous claims," she said, referring to the current White House chief of staff, the national security adviser and the secretaries of state and homeland security. "It's both sad and telling The New York Times would print the lies of their anonymous 'sources' anyway."

While the White House did not deny the overall description of the meeting, officials strenuously insisted that Mr. Trump never used the words "AIDS" or "huts" to describe people from any country. Several participants in the meeting told Times reporters that they did not recall the president using those words and did not think he had, but the two officials who described the comments found them so noteworthy that they related them to others at the time.
Just before publication of story, WH pushed out cabinet members to deny the details of POTUS remarks https://t.co/wiGpOlAwQM

— Maggie Haberman (@maggieNYT) December 23, 2017
[image via screengrab]
— —
Follow Josh Feldman on Twitter: @feldmaniac
Have a tip we should know? tips@mediaite.com
Josh Feldman - Senior Editor