Trump Somehow Wins Again As Fox's Debate Ratings, Cruz's Performance Both Underwhelming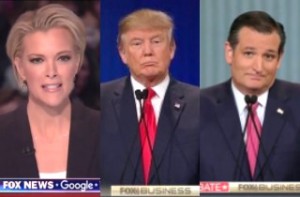 There was once a time when Michael Jordan was not only the biggest figure in sports, but arguably the country. The year was 1993. Jordan had just won a third straight NBA championship. His face was everywhere: Movies, commercials, ESPN… even in the off-season.
But then seemingly out of nowhere not long after his father was murdered in South Carolina, Jordan abruptly retired in his prime. Consequently, the league at the height of its all-time popularity was now devoid of its epicenter while other top-tier teams could finally go beyond dreaming of winning a championship and actually do it. But when the Jordanless Finals came in 1994, despite the presence of stars like Hakeem Olajuwon and Patrick Ewing, the whole series felt empty, boring, almost illegitimate. The Rockets would win in an ugly 7 games. Despite the series going the distance and having the #1 TV market in the country involved, ratings dropped 30 percent without Jordan.
Fast forward to 2016 in another kind of arena, where Donald Trump is now Jordan, at least in terms of also being the epicenter. And last night during the seventh GOP debate on Fox, Cruz played the role of Hakeem and Rubio the role of Ewing (we'll throw in Rand Paul as John Starks). What we witnessed was what many have asked throughout this campaign: What do you think this race would look like without Trump?
Well, we got our answer. First, the winner of the night was Megyn Kelly. Her questions were tough, fair and pointed. It really is a shame we didn't get to see that Trump-Megyn rematch just to see Twitter actually break. To that end, here's a direct ask to Kelly that I hope she reveals on her program tonight: If Trump was on stage last night, what specific questions did you plan on asking him? Revealing that on The Kelly File would make for compelling TV, no? Just sayin'…
On the ratings front, the numbers look disappointing for Fox, as it appears the total viewership likely won't even break 13 million (1:00 PM Update: Final audience number for Fox is 12.5 million). Context: That's 11.5 million less than what Fox registered in August with half the hype and half of America on vacation (Note: August is invariably the lowest-rated month for viewership). Have audiences steadily declined for the GOP debates since Fox's high water mark of 24 million in August? Yes. But remember, CNN got 18 million for a Republican debate just last month (which I used in making my wrong 18.5 million prediction), therefore making it impossible to dismiss that Trump put a decent dent in Fox's overall number last night by offering counter-programming on CNN and (to a lesser extent) MSNBC. One more note: Said counter-programming combined only amounted to about one-quarter of Fox's debate audience, but that doesn't account for all of the casual viewers who likely went completely elsewhere away from politics who would have otherwise tuned in to see a Trump-Kelly sequel.
Back to the debate itself, two narratives emerged sans Trump: The frontrunner was still very much there in spirit, with his name being mentioned 27 times by Mediaite's official count after a review of the transcript. The night also featured a more relaxed Jeb Bush with the epicenter out of the room. Ted Cruz got more scrutiny (particularly from Kelly on immigration), which wasn't necessarily a good thing (most national pundits and the Des Moines Register are calling Cruz's performance disappointing/underwhelming this morning). Marco Rubio felt even more rehearsed than usual. John Kasich was the usual pragmatist who is far too sensible and measured for this political season's angry palate. Chris Christie: Combative, actually kept the focus on Hillary Clinton instead of Trump or other GOPers, continued to compete for VP consideration. Ben Carson? A nice man, would make a fine surgeon general, but you have to wonder how he ever got on the big stage in the first place. Rand Paul? It's just time to go.
Add it all up and a race without Trump would likely be completely up in the air… a battle between Rubio, Bush and Kasich (establishment) with Cruz (self-described outsider appealing to the Tea Party wing of the party) for the nomination with no clear frontrunner. Regardless of polling, as we saw last night, the conversation would be more substantive and the focus much less the personal and sensational variety we've witnessed to this point.
As for Trump's event, it was pulled off surprisingly well for one reason: The appearances of Mike Huckabee (Iowa winner in 2008) and Rick Santorum (Iowa winner 2012) gave it an air of legitimacy. Yes, both guys were there to position themselves as Trump's running mate. And yes, both saw an opportunity to finally get some media attention away from the kiddie table debate. But between Trump compelling viewers at home to flip back and forth between Fox, CNN and MSNBC, and the fact he can tout raising over $6 million for veterans thanks to a sold-out event pieced together in the matter of a day, he somehow wins the night while avoiding pointed questions from Kelly, Bret Baier and Chris Wallace… questions he wouldn't be able to swat away with simply citing poll numbers and declaring to make America great again.
In the end, last night was great political theatre. Would Trump show up or not? He didn't. Would the other candidates take advantage of not having the epicenter — 2016's Jordan of politics at least in an attention-grabbing sense — on stage? Not really.
In the end, Trump goes the completely unorthodox route and somehow wins again.
The question now is: Will he win in Iowa on Monday night? Because if he does, there appears to be no one shrewd enough to stop him all the way to the nomination.
— —
Follow Joe Concha on Twitter @JoeConchaTV
This is an opinion piece. The views expressed in this article are those of just the author.