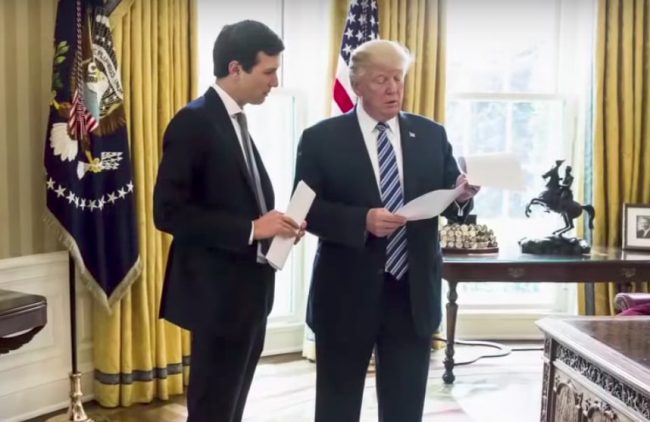 Donald Trump is standing by Jared Kushner.
In a statement to the New York Times, published late Sunday night, the 45th President of the United States said his son-in-law was doing a "great job for the country" and that he had "total confidence" in his performance thus far.
"Jared is doing a great job for the country," Trump told the Times. "I have total confidence in him. He is respected by virtually everyone and is working on programs that will save our country billions of dollars. In addition to that, and perhaps more importantly, he is a very good person."
The statement was embedded in a broader piece from all star reporters, Glenn Thrush, Maggie Haberman and Sharon LaFraniere, about the growing scandal currently engulfing Kushner about his Russian connections. According to the report, Trump's words are in contrast to his actions in the West Wing, where he has increasingly chided his son-in-law and included him in diatribes against his broader staff.
Despite earlier speculation that Kushner would be a "moderating" force in the White House, a growing body of evidence suggests that the real estate scion has often pushed Trump in a more confrontational direction. Kushner was the principal adviser who argued for the dismissal of James Comey. He has also sparred with White House Chief Strategist Steve Bannon, which got so bad last month that President Trump reportedly berated them to work it out or warned that he would.
The President, however, is not known to suffer liabilities. Though married to his most influential child, Ivanka, it is unclear how much longer Kushner will be able to remain above the fray as the Russia probe expands.
[image via screengrab]
Have a tip we should know? [email protected]