Trump Supporters Back Up 'Birther' Claims, Accuse Obama of Being Part of 'New World Order'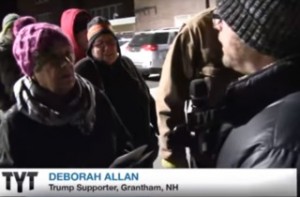 Here's a treasure from our friends at The Young Turks, just in time for the end of your work day: Jordan Chariton interviewed a few supporters of GOP presidential candidate Donald Trump last night while waiting to get inside the real estate mogul's rally in Claremont, North Carolina.
"[W]hat Trump is going to do is action behind his words," stated one of the audience members who showed up to wait in the snow. "The Mexicans — he's going to have the Mexicans pay for the wall."
"How the hell is he going to do that?" asked Chariton.
"I'd like to know that myself," said the man, who was accompanying his wife, who turned out to be a more confident Trump supporter. The woman, Deborah Allan, went on to say that she didn't approve of her candidate's statements on Mexicans and Muslims, though she did mention that her disapproval didn't stem from his statements being untrue, but rather, from the lack of "etiquette" they displayed.
The most illuminating part of the interview came when Chariton asked Allan if she agreed with Trump's assertion that President Barack Obama was not born in America.
"Yes, I do."
"Where do you think he was born?"
"I think he was born… out of this country," she said as an unnamed woman in line butted in to share her opinion that Obama is "no damn American citizen," "all for Muslims and ISIS," and "the puppet to this whole New World Order."
Only 306 days left of Election Season, guys!
[h/t and image: The Young Turks]
For more from Lindsey, follow her on Twitter.
Have a tip we should know? [email protected]