Trump's Bleeding Facelift Tweet Was So Bad Even Jerry Springer Can't Take It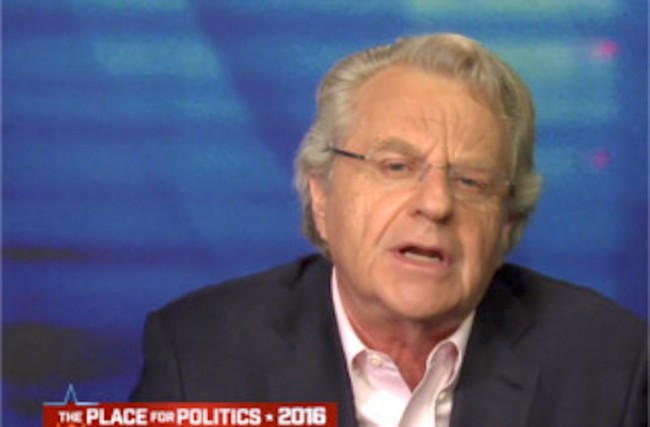 So, just how bad were President Donald Trump's tweets calling MSNBC's Mika Brzezinski a dumb crazy person who was suffering from a bleeding facelift when he saw her on New Year's Eve?
So bad that "The Ringmaster" himself feels it has scraped the bottom of the barrel.
I'm sorry, but Trump's behavior is not just beneath the dignity of the Presidency…but that of any decent man.

— Jerry Springer (@jerryspringer) June 30, 2017
Yep, trash talk legend Jerry Springer feels Trump's behavior is "beneath the dignity of the Presidency." I mean, when the guy who was responsible for giving us television featuring a man who married his horse thinks you've crossed a line…
Anyway, Springer's tweet didn't go unnoticed:
JERRY SPRINGER. https://t.co/wLhSqHHDa3

— Sopan Deb (@SopanDeb) June 30, 2017
saying nothing of trump — this is jerry springer saying this. https://t.co/s3fAsPImU8

— Jake Sherman (@JakeSherman) June 30, 2017
You do realize you are Jerry Springer, correct? https://t.co/sMXQPWTtdq

— Ben Shapiro (@benshapiro) June 30, 2017
Jerry Springer looks at how our President comports himself and comes away unimpressed. Jerry Springer. https://t.co/3lsFlaNvk3

— Robert Caruso (@robertcaruso) June 30, 2017
Today in US History: Jerry Springer scolds a president for being undignified. https://t.co/wncRPWaJfQ

— Jonathan Tamari (@JonathanTamari) June 30, 2017
When even Jerry Springer calls you out….. https://t.co/Rv6GdAzRDd

— JoeMyGod (@JoeMyGod) June 30, 2017
Meanwhile, it appears that we'll be getting more coverage of the tweets over the coming days. Joe Scarborough and Brzezinski have claimed that the White House threatened them with a National Enquirer hit piece. And, of course, we got a response from Trump and the National Enquirer published a story on a "cheating scandal" involving Joe and Mika.
[image via screengrab]
—
Follow Justin Baragona on Twitter: @justinbaragona
Have a tip we should know? tips@mediaite.com