Trump's Muslim Ban Statement Deleted From Campaign Website After Reporter Asks Why It's Still Up
.@PressSec tells @CeciliaVega WH has been "consistent" on travel ban: "Should not be any question as to why the president is doing this." pic.twitter.com/u71N7rRrIj

— ABC News Politics (@ABCPolitics) May 8, 2017
A statement calling for a "total and complete shutdown of Muslims entering the United States" was deleted from President Donald Trump's campaign website Monday, after Sean Spicer was asked about it during today's press briefing.
ABC's Cecilia Vega grilled Spicer about why the page still featured on Trump's website, noting the legal difficulties his administration has faced trying to enforce a travel ban.
Here's the page before it was deleted: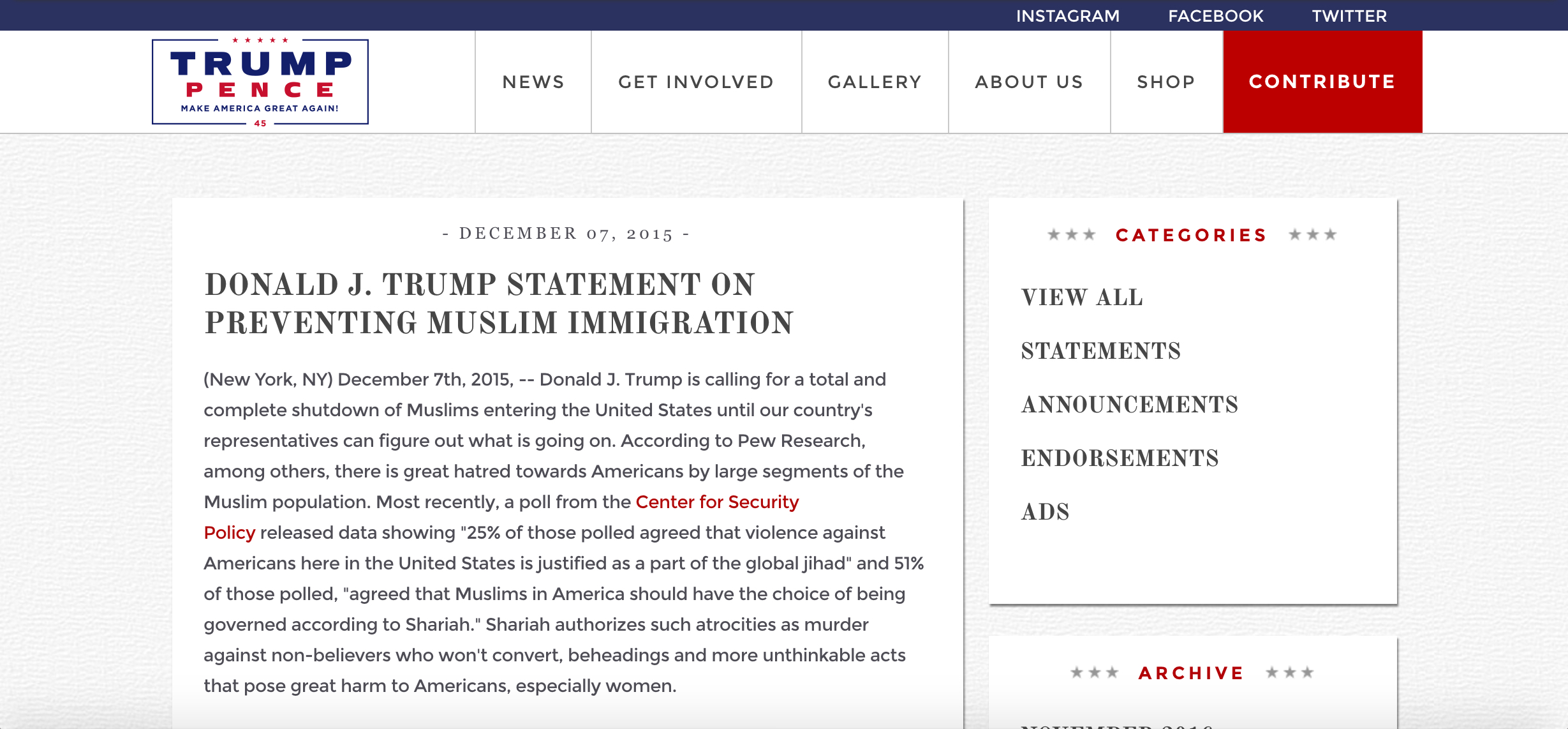 Trump received widespread, bipartisan condemnation for his December 2015 call to ban Muslims from the United States, including from now-Vice President Mike Pence, who called it "offensive and unconstitutional."
The statement, which noted "great hatred towards Americans by large segments of the Muslim population," formed the basis of the legal troubles Trump's administration faced in its attempts to impose a travel ban on seven majority-Muslim countries. A number of rulings against the travel ban cite Trump's past comments expressing a desire to ban Muslims from the country.
The attorneys general of Washington and Minnesota, who sued to block Trump's order in February, even used the December 2015 statement as evidence that the travel ban is intended to target Muslims.
Vega asked Spicer on Monday: "Why does the president's website explicitly call for 'preventing Muslim immigration'?"
Spicer said he was unaware the campaign website still featured the statement, and claimed the administration has been consistent that the travel ban is not a ban on Muslims, and was never intended as such.
"If the president's words are being used against him in court today, is it worth you clarifying that once and for all?" Vega asked.
Clearly the administration understands that leaving Trump's call to ban Muslims from the United States on his website undermines claims that the travel ban was not intended to target Muslims. That's why, following Vega's questions, the statement was removed from Trump's website. The page is now blank:
Per Wayback Machine, it was still up as of earlier today. It appears that all the statements on the campaign site have been taken down.
Trump's administration faces another legal battle in Virginia on Monday, where it will seek to convince a federal appeals court that a revised version of the travel ban is not inspired by religious bias.
Watch the exchange with Spicer above, via ABC News.
[image via screengrab]
—
Follow Aidan McLaughlin (@aidnmclaughlin) on Twitter
Have a tip we should know? tips@mediaite.com
Aidan McLaughlin - Editor in Chief