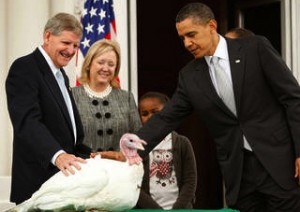 If you haven't started your Thanksgiving feast yet, you might not want to read this so you don't lose your appetite. The annual turkey-pardoning ceremony has been a time-honored long-standing American tradition that started in 1989. But one of the turkeys pardoned by President Obama last year met its end this week (picture the climax of a really cheesy hospital drama as you read this) when it was euthanized following a weekend illness.
RELATED: President Obama Cracks Nate Silver Joke During Presidential Turkey Pardon
Peace the turkey was given a presidential pardon last year, but alas, it was euthanized on Monday. CNN's report on the bird's passing makes a point of saying that despite whatever conspiracy theories people might have about the timing, Peace's death days before Thanksgiving was merely coincidental.
Rebecca Aloisi, vice president for marketing at the Mount Vernon Estate, confirmed that Peace had died after a weekend "illness." But Aloise knew neither the nature of the illness, the manner of death, nor what had been done with the remains of the large, edible bird.

"I appreciate where you're going with this," Aloisi told CNN. "But I assure you that these birds are extremely well cared for."
If you are staying at the Mount Vernon Inn in Virginia, there is a small possibility that a piece of Peace may end up in your mouth for dinner. But now that Peace is at peace, that just leaves one unanswered question: what did the bird know about Benghazi?!
h/t The Hill
Have a tip we should know? tips@mediaite.com
Josh Feldman - Senior Editor