Turkish President Scolds Obama for 'Telling' Silence on Chapel Hill Shooting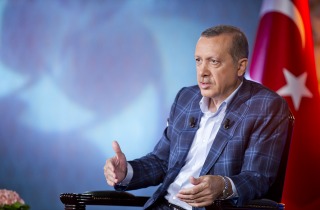 Turkish President Recep Tayyip Erdoğan publicly went after President Barack Obama for thus far staying silent on the execution-style shooting deaths of three Muslim-Americans in Chapel Hill, North Carolina.
According to The Independent, Erdoğan said during a speech in Mexico said it was "telling" that neither Obama, Vice President Joe Biden, nor Secretary of State John Kerry have spoken out against the killings.
"If you stay silent when faced with an incident like this, and don't make a statement, the world will stay silent towards you," Erdoğan said. "As politicians, we are responsible for everything that happens in our countries and we have to show our positions."
He added, according to Al Jazeera America: "I ask Mr. Obama, where are you, Mr. President?"
During a press briefing earlier this week, White House Press Secretary Josh Earnest declined to comment on the shootings until a police investigation is concluded.
Police are still determining whether the shootings amounted to a hate crime, but a preliminary police investigation suggests Craig Stephens Hicks killed them over a "parking dispute" and did not target them based on their faith.
One Democratic representative said there are "enough facts" to believe it was a hate crime, while the sister of one of the victims said it would be "insulting and outrageous" to claim Hicks acted based on a parking dispute. Meanwhile, Hicks' Facebook posts suggest he was a fervent atheist who had very negative attitudes toward Islam and Christianity.
UPDATE — 2:58 P.M. ET: President Obama released a statement about the murders in which he said nobody should be targeted based on their faith.
[h/t The Hill]
[Image via Shutterstock]
— —
>>Follow Andrew Desiderio (@forza_desiderio) on Twitter
Have a tip we should know? tips@mediaite.com