'Twindex': Twitter Launches Political Index To Track Voter Moods In Real Time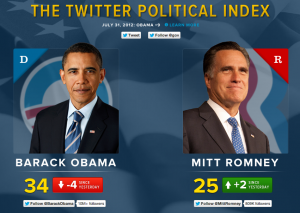 Earlier today Twitter launched its joint venture with the social analysis tracker Topsy and two political polling groups: Twindex. The new service, from the Government & Politics team at Twitter, is tracking voter moods about President Barack Obama and Republican candidate Mitt Romney in real time on the social network to compete with traditional polling outfits. Four years ago, election night brought Twitter record-breaking traffic, and in this election the social network wants to play a larger role in highlighting voters' reactions to the campaign.
RELATED: Washington State Is Going To Allow Voter Registration On Facebook
Twitter and Topsy have joined forces with pollsters The Mellman Group and North Star Opinion Research for the project. Wired breaks down exactly how the service tracks political tweets and what the rankings next to Obama and Romney's names mean.
Topsy uses Twitter's high-volume fire hose of data to look at every tweet in the world, and establish a neutral baseline. Separately, it looks at all the tweets about Barack Obama and Mitt Romney, runs a sentiment analysis on them, and compares this analysis to the baseline. It looks at three days' worth of tweets each day, weighting the newer ones higher than then older ones. It then returns a numerical score for each candidate based on how tweets about the individual compare to all tweets as a whole. A completely neutral score would be 50. Anything above that is a net positive, while lower is a net negative.

So, for example, if Obama has a score of 38, that would mean that tweets about him are more positive than 38 percent of all other messages on Twitter.
Over the past few years, as Twitter worked on Twindex and tried to get it working properly, they eventually noticed that their results were beginning to line up more with Gallup poll numbers. Twitter's Adam Sharp said the program is "providing a real service to journalists," because if the Twindex numbers are not matching the numbers traditional pollsters are getting, "we are saying we don't have a complete picture, and need to be asking better questions."
Today President Obama's ranking stands at 34, while Mitt Romney's is at 25. A political map of the social web released last month showed that politically speaking, Twitter's users tend to be close to the center, but lean Republican.
—–
Follow Josh Feldman on Twitter: @feldmaniac
Have a tip we should know? tips@mediaite.com
Josh Feldman - Senior Editor