Twitter Blows Up After Paul Ryan Hypes Tax Cuts By Touting Secretary's $1.50 Pay Bump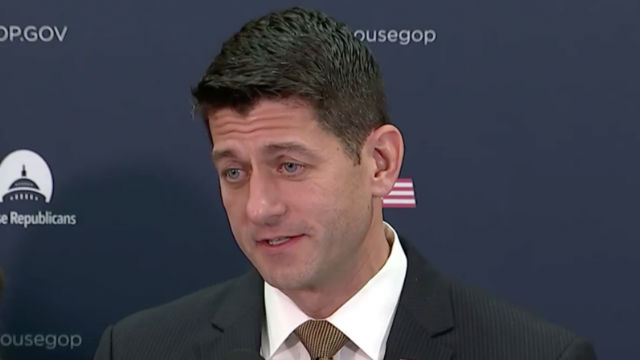 Since the GOP tax cut bill was passed, President Donald Trump and Republicans have made sure to hype up and highlight the numerous instances of companies and businesses raising their wages and issuing bonuses to its employees. With these corporations all pointing to tax reform as the reason for the bonuses and wage increases, it would only make sense to make political hay out of the news.
In that vein, Speaker of the House Paul Ryan took to Twitter today to share a story of a Pennsylvania high-school secretary seeing an increase in her paycheck. But instead of featuring someone receiving a thousand-dollar check or seeing their pay go up a few bucks an hour, the secretary he pointed to saw a weekly increase of…$1.50.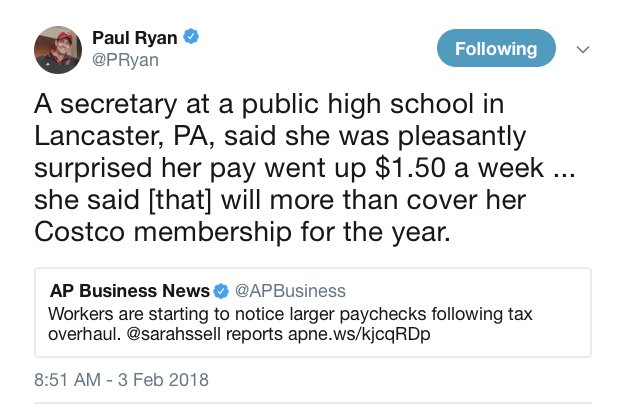 Yeah, as you would imagine, this led to widespread mockery on Twitter.
I don't know that this is something to tout. A check for $1,000 is a big deal for many people…I understand why elected officials promote that. But $1.50 a week shouldn't be put up as an example. pic.twitter.com/YeF0yjGKxM

— Yashar Ali ? (@yashar) February 3, 2018
This isn't a typo? https://t.co/eme55ASDLr

— andrew kaczynski? (@KFILE) February 3, 2018
$1.50 a week for 52 weeks equals $78 per year, times 125 million workers that equals $9.75 billion a year.

Yet the tax cut costs $1.5 trillion — with a t — over ten years.

Where'd the money go? https://t.co/RQKEPM75GC

— Matthew Yglesias (@mattyglesias) February 3, 2018
$1.50 a week tax cut Twitter is way more fun than memo Twitter

— Haley Byrd (@byrdinator) February 3, 2018
if Paul Ryan just stopped trying altogether how would anyone know the difference https://t.co/ojxWnIiqSi

— Kilgore Trout (@KT_So_It_Goes) February 3, 2018
The "crumbs" line from Pelosi and other Dems is not good, and $1000 can mean a lot to some families even when it seems like crumbs to others. But with how much this bill is costing, I don't think Ryan touting someone getting $78 a year is a good way to sell this either.

— Josh Billinson (@jbillinson) February 3, 2018
A dollar fifty. A dollar fucking fifty. Plant this man in a fucking volcano. https://t.co/y109lajTAF

— Drew Magary (@drewmagary) February 3, 2018
Why would you highlight this? https://t.co/c6ooivtZht

— T. Becket Adams (@BecketAdams) February 3, 2018
A street urchin in the Waukesha kasbah said he was pleasantly surprised when three more beans than average spilled from a passing cart https://t.co/IEewMetZAm

— southpaw (@nycsouthpaw) February 3, 2018
AIDE: mr ryan ppl are saying ur only working to help the billionaires. they say you hate everyone who isn't rich

PAUL RYAN: oh yeah? well I'll show them *chucks a handful of loose nickels at the back of a teachers head*

— KT NELSON (@KrangTNelson) February 3, 2018
Paul Ryan: A secretary is saving $1.50 a week from the tax bill.

Also Paul Ryan: These aren't crumbs.

— Matt Fuller (@MEPFuller) February 3, 2018
[holding back tears]

Paul Ryan……………..

thank you. pic.twitter.com/gQwYeY2RpR

— Chris Jackson (@ChrisCJackson) February 3, 2018
Tfw you really believe you can sell people on a raise that amounts to one McChicken each week while you try to take their health care away pic.twitter.com/pvTO6IYPrC

— Aaron Rupar (@atrupar) February 3, 2018
just wait until that secretary finds out how much more Paul Ryan makes per week

— Simon Maloy (@SimonMaloy) February 3, 2018
Not a parody account: https://t.co/T03YhIz7GZ

— Tim Alberta (@TimAlberta) February 3, 2018
And before you even ask, yes — Paul Ryan did delete the tweet.
Paul Ryan deleted this tweet. I think I know why (and why we may see it in a Democratic attack ad)… pic.twitter.com/4Kg2QMlofE

— Jennifer Bendery (@jbendery) February 3, 2018
[image via screengrab]
—
Follow Justin Baragona on Twitter: @justinbaragona
Have a tip we should know? tips@mediaite.com