Twitter Caught Censoring Blasphemous Tweets on Behalf of Pakistani Government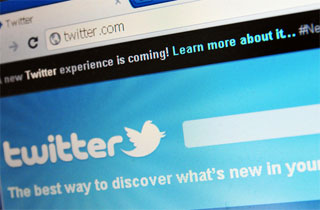 In the most high-profile act of censorship yet, Twitter, which hails itself as a tool of free speech in oppressive regimes, was found to have blocked "blasphemous" and "unethical tweets on behalf of the government of Pakistan at least five times in May alone. All of the censorship requests came from a Pakistani bureaucrat who wanted Twitter to block material related to anti-Islamic content, the New York Times reports.
While Twitter does have a country-specific censorship policy, which they implemented in 2012 to help the company adhere to local speech laws, this is the first time that the company's actively blocked tweets in Pakistan. As the Times elaborates, it comes at a time when Pakistan's government is flexing its censorship abilities, even going so far as to remove an entire op-ed criticizing Pakistani censorship from the pages of the Times itself, leaving a conspicuously blank page:
A number of the accounts seemed to have been blocked in anticipation of the fourth annual "Everybody Draw Muhammad Day" on May 20.

This censorship comes as challenges to Pakistan's draconian blasphemy law have become increasingly deadly, amid a flurry of arrests, killings and assassination attempts on secularists…

A civil rights group in Pakistan concerned with Internet access, Bolo Bhi, called "the legitimacy of the requests forwarded by Pakistan Telecommunication Authority" to Twitter questionable. The law that defines the regulator's power, the group explained, "does not in any form give P.T.A. the authority to arbitrarily restrict content on the Internet."
In a strange coda, they also blocked "blasphemous" material related to Duke University student and porn star Belle Knox.
[NYT h/t Valleywag]
[Image via 1000 Words / Shutterstock.com]
— —
>> Follow Tina Nguyen (@Tina_Nguyen) on Twitter
Have a tip we should know? tips@mediaite.com