Twitter Drags Lena Dunham After Animal Shelter Disputes Claim She Adopted Abused Dog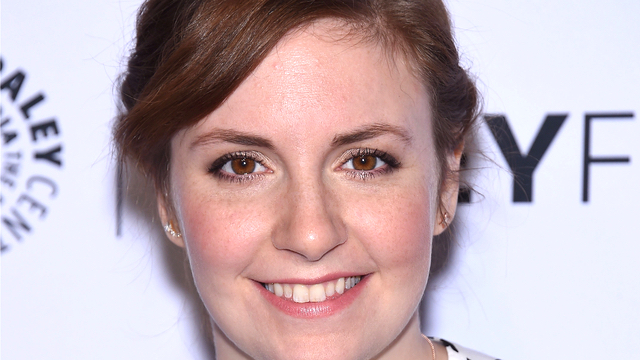 Twitter roasted Lena Dunham for an apparent discrepancy between her and an animal shelter about the dog she adopted from them four years ago.
Last month, the actress took to Instagram and shared her "heartbreaking" decision to give up her dog Lamby, which she had since 2013.
In the post, she writes, "after four years of challenging behavior and aggression that could not be treated with training or medication or consistent loving dog ownership, Lamby went to live at an amazing professional facility in Los Angeles," adding, "Lamby suffered terrible abuse as a pup that made having him in a typical home environment dangerous to him and others."
However, the animal shelter she adopted Lamby from disputed her claim that the dog was abused.
Robert Vazquez, a spokesman for the Brooklyn-based BARC Shelter told Yahoo Celebrity that they "checked the records for Lamby" and they confirmed that it was "owner surrendered" and at the time of the adoption, when the dog was 1-2 years old, he "didn't have a history of being aggressive."
He also refuted her claim she made back in the New Yorker in 2013 that Lamby had "three other homes, three other names."
"We do not know where she got 'multiple owners that abused the dog,'" he stated.
He also pointed out that she also said in 2013 that "dogs shouldn't be dumped or thrown away because they have feelings."
Upon reading this report, Twitter had a field day.
if you designed my perfect story it would be this, the tale of a dog shelter employee brutally owning lena dunham https://t.co/17HIE70ZjR

— Jessica Roy (@JessicaKRoy) July 6, 2017
Hillary Clinton's social media manager abused her dog. https://t.co/0xRpyzHlbk

— Mike Cernovich ?? (@Cernovich) July 6, 2017
Lena Dunham blocked me yesterday for quoting her tweet with "Welp", so I can't ask her if she lied about her dog. https://t.co/EuRAa516nA

— Ben Domenech (@bdomenech) July 6, 2017
this is the best news story, journos, plz keep investigating. we need the truth about lamby https://t.co/vCe8cgjOkI

— eve peyser (@evepeyser) July 6, 2017
shit-talking the dog she abandoned on Instagram is peak Lena Dunham pic.twitter.com/SOm3ncIRg7

— eve peyser (@evepeyser) July 7, 2017
Who lies about the history of an adopted dog?

— deray mckesson (@deray) July 7, 2017
Lena Dunham belongs in an animal shelter.

— Mark Dice (@MarkDice) July 7, 2017
The dog shelter coming for Lena Dunham rn pic.twitter.com/H0OEj5Nv8v

— Ira Madison III (@ira) July 7, 2017
Oh for the love of… https://t.co/thaC8V1iP1

— Michael Tracey (@mtracey) July 7, 2017
the only good thing to happen in 2017 so far has been an animal shelter staffer going on the record to call Lena Dunham a bad pet owner

— Julia Carrie Wong (@juliacarriew) July 7, 2017
i LOVE this shit https://t.co/36vxGAfOQ9

— Ashley Feinberg (@ashleyfeinberg) July 6, 2017
Dunham reacted to the animal shelter's refutal on Instagram, writing, "It's come to my attention that the staff at the shelter where I adopted Lamby have a very different account of his early life and behavioral issues than I do. While I'm sorry to have disappointed them, I can't apologize."
Have a tip we should know? tips@mediaite.com