Twitter Eviscerates House Judiciary Over 'Circus' Strzok Hearing: 'This is Why Congress is So Despised'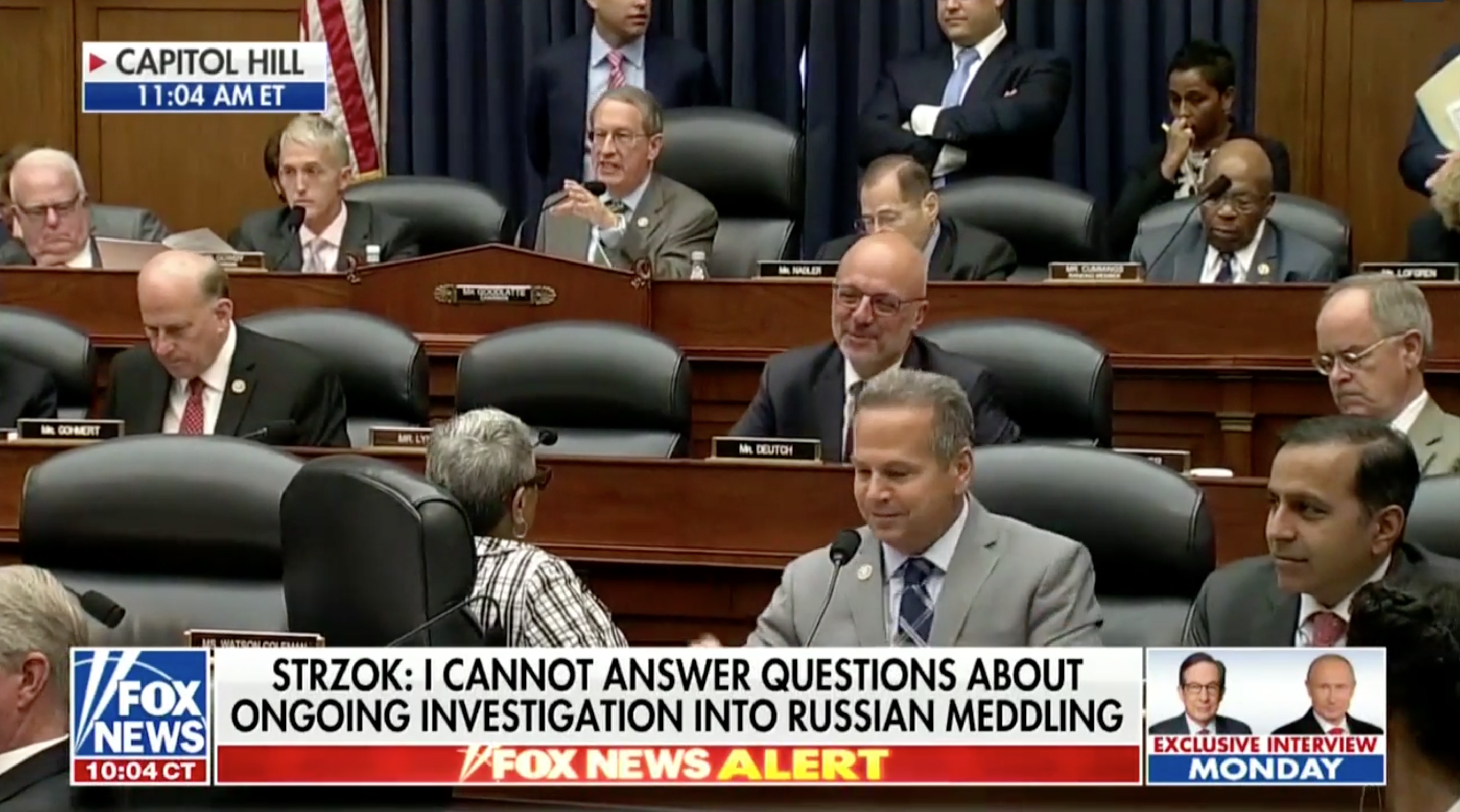 Political observers were far from impressed today when the House Judiciary Committee plunged into total madness during their hearing with Peter Strzok.
The FBI investigator was on Capitol Hill today to face questions about his controversial text messages and the allegations that his work was corrupted by bias against President Donald Trump. Strzok predictably defended himself from the charges against him, but as Congressional lawmakers tried to move things forward, they ended up descending into partisan infighting where they accused each other of breaking hearing rules, getting out of order, and working to score cheap political points.
While people are bound to have a difference of opinion on whether Strzok, Congressional Republicans or Congressional Democrats looked best in the end, it seems everyone can at least agree on the fact that today's hearing was an absolute catastrophic meltdown:
Strzok hearing now a complete circus, quickly descending into a heated back-and-forth between the two sides about whether he can answer questions about an ongoing investigation as instructed by the FBI. Goodlatte warns of holding Strzok in contempt, Nadler moves to adjourn

— Manu Raju (@mkraju) July 12, 2018
New House rule — lawmakers have to talk about actual TOPIC of hearing they attend. They have freedom to attack topic, make all kinds of great salient points about why they think #Strzok story nbd but stick to actual #StrzokHearing — same at cancer research hearing or immigration https://t.co/H0rWxuu4cs

— Ed Henry (@edhenry) July 12, 2018
This House committee hearing is equally entertaining and depressing.

— Colby Hall (@colbyhall) July 12, 2018
This hearing is extremely uncomfortable.

— Katie Watson (@kathrynw5) July 12, 2018
Live shot of Strzok hearing. pic.twitter.com/jDgniQVqY5

— Steve Koczela (@skoczela) July 12, 2018
In my 20+ years in politics and 7 years on Capitol Hill, I don't recall a Judiciary Committee hearing as chaotic as the one happening right now w/ FBI agent #PeterStrzok

What is Chairman Goodlatte doing? Completely out of control. https://t.co/R1mAuEzgem

— Tara Setmayer (@TaraSetmayer) July 12, 2018
This hearing is like Twitter irl

— Mike Warren (@MichaelRWarren) July 12, 2018
The circus atmosphere of Hill hearing has taken spotlight off Peter Strzok's anti-Trump texts and put it on the squabbling lawmakers themselves

— HowardKurtz (@HowardKurtz) July 12, 2018
I have zero sympathy for Peter Strzok. His texts were harmful to the perception of the investigation, unprofessional and an embarrassment to the FBI. That said, this hearing is a screaming spectacle, unprofessional and an embarrassment to the Institution of Congress.

— Ana Navarro (@ananavarro) July 12, 2018
This is why Congress is so despised. This isn't a hearing. It's a media circus to see who can get on @seanhannity tonight to talk about the Deep State and other junk.

— Bradley P. Moss (@BradMossEsq) July 12, 2018
A lot of colliding interests here: Republicans, who don't feel like they are getting answers; Democrats, who are tired of the nonsense; & Strzok, who is tired of being smeared.

I just can't tell whether this hearing is serving as a pressure release valve, or partisan combustion.

— Josh Campbell (@joshscampbell) July 12, 2018
[Image via screengrab]
— —
>> Follow Ken Meyer (@KenMeyer91) on Twitter
Have a tip we should know? tips@mediaite.com