Twitter Rips NYT for Report on 'The Nazi Sympathizer Next Door': 'What The Hell Is This?'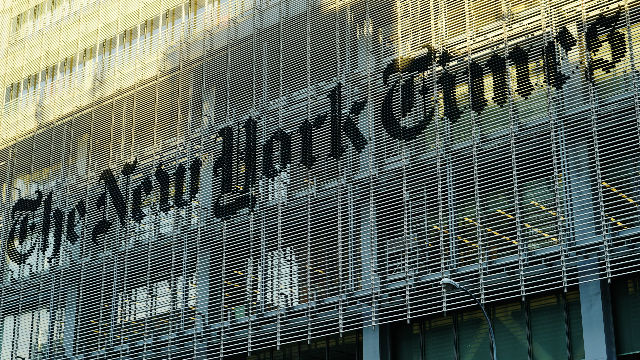 There's a new report in the New York Times out today actually headlined "In America's Heartland, the Nazi Sympathizer Next Door."
No, seriously.
Richard Fausset filed a report on a man named Tony Hovater who, um…
He is the Nazi sympathizer next door, polite and low-key at a time the old boundaries of accepted political activity can seem alarmingly in flux. Most Americans would be disgusted and baffled by his casually approving remarks about Hitler, disdain for democracy and belief that the races are better off separate. But his tattoos are innocuous pop-culture references: a slice of cherry pie adorns one arm, a homage to the TV show "Twin Peaks." He says he prefers to spread the gospel of white nationalism with satire. He is a big "Seinfeld" fan.
He has guested on a podcast for "a website called Radio Aryan," he talks about how "Jews run the worlds of finance and the media," and has the following insights to offer on race:
He is adamant that the races are probably better off separated, but he insists he is not racist. He is a white nationalist, he says, not a white supremacist. There were mixed-race couples at the wedding. Mr. Hovater said he was fine with it.

"That's their thing, man," he said.

Online it is uglier. On Facebook, Mr. Hovater posted a picture purporting to show what life would have looked like if Germany had won World War II: a streetscape full of happy white people, a bustling American-style diner and swastikas everywhere.

"What part is supposed to look unappealing?" he wrote.
Now, in case such a profile in the New York Times about someone with remarkably repugnant views boils your blood, there is some supplemental material by Fausset reflecting on the piece itself.
The main question here, as Fausset writes, is "Why did this man — intelligent, socially adroit and raised middle class amid the relatively well-integrated environments of United States military bases — gravitate toward the furthest extremes of American political discourse?"
And, well, he still doesn't have a clear answer:
After I had filed an early version of the article, an editor at The Times told me he felt like the question had not been sufficiently addressed. So I went back to Mr. Hovater in search of answers. I still don't think I really found them. I could feel the failure even as Mr. Hovater and I spoke on the phone, adding to what had already been hours of face-to-face conversation in and around his hometown New Carlisle, Ohio.

On the phone, Mr. Hovater responded to my question by rattling off names of libertarian academics, making references to sci-fi movies and describing, yet again, his frustration with what he described as the plodding and unjust nature of American democracy. As he did so, I was thinking about an album I grew up with by the Minutemen, the Southern California punk group, and its brilliantly koanic title: "What Makes a Man Start Fires?"

To me, that question embodies what good journalism should strive for, as well as the limits of the enterprise. Sometimes all we can bring you is the words of the police spokesman, the suspect's picture from a high school yearbook, the acrid stench of the burned woods.
The profile, meanwhile, is not going over well on Twitter, with many expressing how shocked and appalled they are by the Times' decision to run it:
I'm stunned. The Times wrote a domesticated profile of a Nazi (about his wedding & cats & family life) & actually acknowledged within the damn piece that this is exactly what the far-right wants pic.twitter.com/r3ZRC5adTk

— David Mack (@davidmackau) November 25, 2017
It is definitely responsible to profile a Nazi as if he's just an odd curiosity and not part of a violent and dangerous movement. https://t.co/0gJuaCpd0v

— Jamelle Bouie (@jbouie) November 25, 2017
The problem with this article isn't that it's about a Nazi but that it doesn't add anything to our understanding of modern Nazis. Of course racists shop at supermarkets and play in bands and enjoy Seinfeld and own cats. That evil is also banal is not new. https://t.co/bOIQU4pOzu

— Ezra Klein (@ezraklein) November 25, 2017
This dreck and the "dapper Nazi" dreck is what led us here.

Newspapers, you have a responsibility. I mean, I wouldn't think this would need to be spelled out but…

DO ??NOT??NORMALIZE??NAZISM?? https://t.co/jMPdkyv8P2

— Kumail Nanjiani (@kumailn) November 25, 2017
It's like they were thinking to themselves "how can we do worse than 'Investigating Trump, FBI Sees No Clear Link to Russia'" and then they knocked it out of the park.https://t.co/E0MnjF0CIt

— Matthew Yglesias (@mattyglesias) November 25, 2017
giving people like this some of the finite space, attention and empathy in your newspaper is a choice. shame on the Times https://t.co/ctsxCLMj8n

— Owen Ellickson (@onlxn) November 25, 2017
Imagine a profile like this for an antifa activist. For a street medic. For a BLM organizer. https://t.co/xdagdJ5qwA

— Angus Johnston (@studentactivism) November 25, 2017
The journalist in me understands that your job sometimes is to explain why awful people are so awful. It's a delicate process. It's a fine line between explaining and giving hateful people a platform that normalizes their hate. Swing and a miss, here https://t.co/KkEE2rmhTv

— Jemele Hill (@jemelehill) November 25, 2017
It would be cool if we could stop profiling Nazis as if they're just people with different views that we should accept in our society https://t.co/p1l43flTRD

— Josh Billinson (@jbillinson) November 25, 2017
There is absolutely nothing to gain from profile no. 542 of the well-mannered Nazi sympathizer

— Gideon Resnick (@GideonResnick) November 25, 2017
I generally respect @nytimes very much, but why on Earth are the editors devoting precious resources to sympathetically profiling a Nazi nobody? This is worse than embarrassing. https://t.co/1Fu9u1JZKW

— Steve Silberman (@stevesilberman) November 25, 2017
Why on earth is the New York Times normalizing a neo-Nazi who posts on Facebook that life would've been better had Germany won the war? THERE IS ABSOLUTELY NOTHING NORMAL ABOUT NAZISM. https://t.co/dvpyo6Xe9c

— Scott Wiener (@Scott_Wiener) November 25, 2017
Hot copy from the @nytimes's Humanizing Nazis desk: They're just regular folks deeply invested in mass genocide! https://t.co/Te6dVAIWHg

— Andi Zeisler (@andizeisler) November 25, 2017
Fucking Stop It. Don't normalize neo-Nazis. Don't whitewash conspiracy theorists. Don't fawn over ex-Breitbart writers. pic.twitter.com/wicBpHG4PO

— Alex Kotch (@alexkotch) November 25, 2017
.@AdamSerwer wrote a terrific piece about the historic American reflex of explaining away white supremacy with false tropes like "economic anxiety." The @nytimes epitomizes the media's obsession with de-villainizing villainy when the subject isn't a minority. https://t.co/K7d53lEbXn

— Joy Reid (@JoyAnnReid) November 25, 2017
[image via EQRoy / Shutterstock.com]
— —
Follow Josh Feldman on Twitter: @feldmaniac
Have a tip we should know? tips@mediaite.com
Josh Feldman - Senior Editor