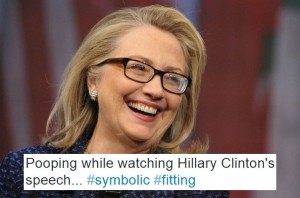 Social media is both wonderful and horrendous. The former because it lets everyday people share their creations, ideas or comments with an almost global audience. The latter — for the same reasons.
So of course Hillary Clinton's big campaign speech at Roosevelt Island was going to draw the best and worst Twitter had to offer on Saturday. Most were heavily politicized, partisan and not really worth the time. Many others, however, were downright wonderful — intentional and otherwise.
Here's some of our favorites from across the political spectrum, including a smattering of sarcasm:
Putin is shaking in his boots

— Steve Klein (@SteveKlein62) June 13, 2015
A constipated admission:
Pooping while watching Hillary Clinton's speech… #symbolic #fitting — Brett D. Smith (@brettdsmith_) June 13, 2015
And a rather noticeable effort to capitalize on the situation:
I am really happy that Hillary made her speech right under Trump World Tower!

— Donald J. Trump (@realDonaldTrump) June 13, 2015
There was plenty of meta-snark:
I was born a poor black child http://t.co/1D3RmTy4W2

— David Burge (@iowahawkblog) June 13, 2015
Why is Hillary talking about how much she loves Kenya? — Ben Dreyfuss (@bendreyfuss) June 13, 2015
oh, so she actually is running. I was wondering.

— Ezra Klein (@ezraklein) June 13, 2015
Pretty solid State of the Union address by Hillary.

— Matt Ford (@fordm) June 13, 2015
As well as a Disney Channel observation nobody probably would (or should) have noticed:
Omg Hillary Clinton used a Hillary Duff joke in her speech

— Adkins Updates (@adeIegend) June 13, 2015
Not to mention bits of trivia from about the peanut gallery:
Hillary Clinton is kicking off her campaign on an island which used to be an insane asylum and prison. #rooseveltIsland — Justen Charters (@JustenCharters) June 13, 2015
And reflections on the campaign's official logo, a favorite target of the Internet:
Voting for #Hillary2016 but the campaign logo looks like a sign for a hospital emergency room. #rooseveltIsland @HillaryClinton

— Paula Gerardi (@paulasbliss) June 13, 2015
But let's be honest, everyone was thinking the same thing — when would Hillary just break out her rendition of "Domi Arigato, Clinton Roboto"?
Hillary Clinton sounds like a robot. — Tobe (@Elu_Isi) June 13, 2015
Really, did the Clinton Foundation spend that forgotten $134M on a Hillary robot?

— Tammy Bruce (@HeyTammyBruce) June 13, 2015
she even paused between hillary and clinton in http://t.co/XLwNR69Frk is. she. a. robot? — peter fack (@fackinpeter) June 13, 2015
So what's the final Twitter verdict on Clinton's campaign speech?
My takeaway having not watched the speech is that some people like @HillaryClinton and some people don't. #analysis — Ben White (@morningmoneyben) June 13, 2015
Only the hardest-hitting of takes on social media.
— —
>> Follow Andrew Husband (@AndrewHusband) on Twitter
Have a tip we should know? tips@mediaite.com