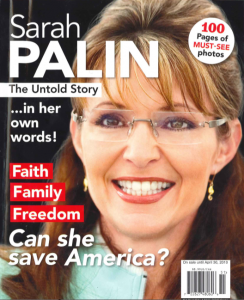 Perhaps an entire magazine devoted to Sarah Palin is not exactly the sort of thing you'd expect to find at the checkout of your local West Village grocery store, but that's apparently where a regular reader picked up this copy of Sarah Palin; The Untold Story (…in her own words!) for a scant $8.99. Alas for the magazine world this just appears to be a one-off! Why alas? Regardless of how you feel about her politics (or maybe because of them) this is a woman who can sell magazines. Something publisher Steve LeGrice (former founding editor of In Touch and current head of Imagine That Publishing, which co-published this special issue) clearly is counting on, despite the fact the magazine "was produced, according to its publisher, without her knowledge or participation."
This magazine, mind you, is less about any sort of text or analysis than a whole lot of (previously published) complimentary quotes and pretty pictures strung together…it's a bit like a photo album with some soundbites sprinkled here and there. The most notable part of the special edition however, may be the collection of never before published photos of Sarah Palin as an extremely cute child huntress. Extremely, seriously cute. But apparently also a child who learned to love hunting early on. And we are talking real hunting ((dead) chickens! bears! moose! Oh my). Maybe she killed these animals with her cuteness. Pictures after the jump.
Also depicted is Sarah the teenager…mother…wife…politician. According to the cover we are possibly gazing at the savior of America? I think that's the conclusion the reader is supposed to draw from these pages, anyway. Truth be told, Sarah Palin the image, as opposed to Sarah Palin the politician/news analyst, is actually surprisingly hard to resist. Which maybe shouldn't be too surprising, actually; Palin's popularity really only began dropping nationally when she began giving interviews. Either way, it's sort of a fun magazine. You can look for yourself after the jump.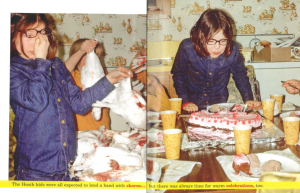 The magazine, by the way, is jointly published by IMG Publishing, a division of global sports and entertainment company IMG, and the aforementioned Imagine That publishing. Earlier this year, they also published a Michelle Obama Style tribute (every great outfit!)…one can only assume a Hillary Tribute is on the way? (Palin has nice words for Clinton in this.) Meanwhile, this Palin edition will be on newsstands until the end of April. Really awesome scans after the jump.

>>>>>NEXT: Sarah Palin: the adorable young huntress of Alaska
Have a tip we should know? tips@mediaite.com