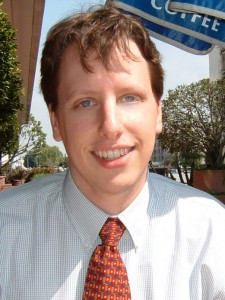 Today, Travis F. Smith has one of the most popular blogs on the internet. It's a phenomenon that has reached the #2 highest search on Google. Is it because of his charming vacation photos? Perhaps it's because of the lovely post he made recently with humorous graphs charting his happiness in relation to days of the week, hours of sleep, and activity. Or, possibly, his blog has become such a hit because the media has written a metric ton of articles in the past few days trashing a controversial site with a very similar name.
First some background: "Unvarnished" is a social media site, the basic idea of which is that of a LinkedIn/Yelp combination where users create profiles and their colleagues, friends, and enemies can then "review" them. Even though it's still in it's private beta phase, Unvarnished has caught the online world by storm leading to feverish headlines like "Unvarnished Website Will Seek to Destroy Your Business" and "How Unvarnished.com Could Ruin Your Career".
Yes, its become that media lightning rod and the latest in the long and storied line of Internet fads that will "clearly bring about the end of the world".
The only problem is, these reporters have forgotten to notice that the site their talking about is actually located at GetUnvarnished.com. Unvarnished.com is actually the home of the 12-year-old personal blog of Mr. Smith, a web designer from California.
Smith is taking the confusion is stride. He changed his homepage to be a note explaining the situation to lost web travelers (but wisely only linking to his main page instead of that of his name-usurpers'). In a piece he posted earlier today on the site, he seemed to be having a little fun with the situation.
"To the guy who runs that other site: I was at first a little disappointed to get 9,000% more traffic today than usual, not that it was shabby before—I do OK, you know.

But now that I do know why my site was cratering from heavy load, taking down me and all my clients, it's kinda fun to have a big audience. If I get a sitcom or talk show out of this, I'll be sure to thank you profusely during my Emmy speech."
Things will probably work out well for Smith. If the other Unvarnished becomes popular (and with it's heady mixture of social media and wanton slander, it almost certainly will) they'll be forced to buy his URL from him for a pretty penny. In fact, we wouldn't be surprised if the "Get" in "GetUnvarnished.com" vanishes even quicker than the "The" in "TheFacebook.com" (That's right, people who weren't in college in 2005. There was a "The"). Until then, though, Travis Smith will be enjoying some great increases in web traffic. How great? Well, check out this graph he posted today.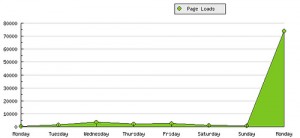 Have a tip we should know? tips@mediaite.com