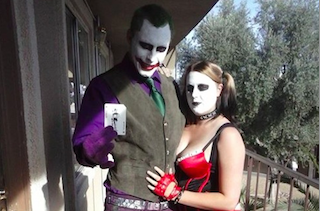 The couple who allegedly killed a pair of Las Vegas police officers before killing themselves this weekend is starting to emerge has been identified as Jerad and Amanda Miller. And a look at their public Facebook pages some hints about their apparent motivations.
Wonkette's Rebecca Schoenkopf appears to be one of the first to discover the couple's Facebook pages, where they posted support for rancher Cliven Bundy as well as harsh criticism of President Barack Obama, Attorney General Eric Holder and other Democrats.
Jerad's "likes" include such conservative pages as Conservative America, Conservative Daily, Mr. Conservative, Ron Paul, the NRA, Americans for Prosperity, FreedomWorks, all in addition to conspiracy theorist Alex Jones. Amanda's included some of the same along with the Drudge Report and Hobby Lobby.
While Amanda appears to have kept her posts private, Jerad's remain viewable by the public today. In this post from early April, Jerad demonstrated his support for the Bundy Ranch. Over the next two months, he posted about visiting the ranch and shared his outrage about the Bureau of Land Management officers threatening to shut it down:
In early May, Jerad posted this message, possibly foreshadowing this weekend's shooting incident:
"There is no greater cause to die for than liberty. To die for that cause is easy, to live for it is another matter. I will willingly die for liberty. Death, in a sense is freedom from tyranny. Death, is the easy way out. Most notably is the "suicide by cop" routine. Yes, standing before despots is dangerous and most likely does not end well for you. I know this, my wife knows this. Soon they will come for us, because they don't like what we think, and what we say. They don't like the fact that we, simply will not submit to fascist rule. We don't have much, but we are willing to sacrifice everything…….for you, for your freedoms. Even if you wouldn't let us have ours. We know who we are and what we stand for, do you?"
According to police reports, following the slaying of the officers, Jerad "covered the officers with the Gadsden flag, a yellow banner with a coiled snake above the words, 'Don't tread on Me,' and placed a manifesto with a swastika symbol on one officer's body."
Jerad Miller posted a series of photos from the couple's wedding, dated December 12, 2013. See the photos below:
Gallery unavailable
[Photo via Facebook]
— —
>> Follow Matt Wilstein (@TheMattWilstein) on Twitter
Have a tip we should know? tips@mediaite.com