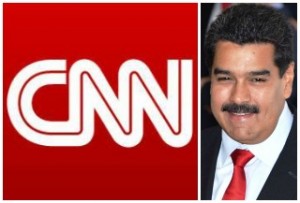 With anti-government protests swelling in Venezuela, the battle to crack down on media coverage has been a fierce one. President Nicolás Maduro threatened to kick out CNN earlier this week for, as he put it, promoting anti-government "war propaganda" in its coverage, and CNN's press credentials were officially revoked Friday. However, in a strange new twist, Maduro has backed away from those threats and is now saying CNN is free to continue reporting, as long as they do so in a "balanced" way.
Following a lengthy press conference, Venezuelan officials reportedly informed CNN that they would receive credentials again to report from within the Latin American nation. However, that's not to say that Maduro is any happier about CNN's coverage of the protests, for during his press conference he called out CNN specifically for its biased coverage.
"Where is CNN en Español. There they are. …They do not talk about anything except Venezuela. One hundred percent of the programming until today has been Venezuela. No other Latin American news but Venezuela…

"They're calling for civil war, hatred and are lying to the world about what is happening in Venezuela. This comes back to the owner of CNN. He is the one who sets the guidelines. And they work with the State Department, and from there they use that network to foment a pretend war among Venezuelans and to say internationally there should be intervention in Venezuela."
He said that CNN can continue to stay in Venezuela, but they should "cover it in a balanced way," defining such balance as being "based on respect for Venezuelan laws."
Maduro also addressed the fact that a CNN team had their equipment stolen at gunpoint this week, saying the government is currently investigating the matter. Karl Penhaul, the CNN reporter whose crew was robbed, said this week the thieves were likely plainclothes Venezuelan police.
[photo via CNN, Agencia Brasil]
— —
Follow Josh Feldman on Twitter: @feldmaniac
Have a tip we should know? [email protected]
Josh Feldman - Senior Editor