Victoria Jackson Crashes Occupy Wall Street, Receives Remarkably Polite Discourse In Response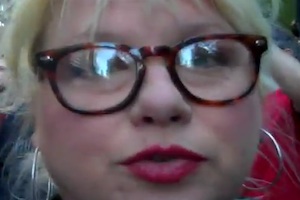 Victoria Jackson, former SNL cast member turned staunch anti-Glee activist, travelled to Occupy Wall Street and put on her roving reporter hat to pepper protestors with conservative talking points.
The epic 15-minute clip from Patriot Update, features the baby-voiced Jackson in her full tea party glory. She treks over to Lower Manhattan, observing that the Twin Towers aren't part of the skyline anymore because "some Muslims crashed into" (!) them.
Upon arriving at the protest, Jackson questions a passerby on what Occupy Wall Street is all about and receives a surprisingly thoughtful analysis. He notes that many demonstrators are decrying "capitalism gone awry" and "the vast inequity of the system. Not necessarily capitalism, not necessarily corporations, but the inequity."
"Don't the rich people, aren't they the ones that create all the jobs?" counters Jackson. "Poor people don't create all the jobs." Then later, Jackson asks a protestor whether she thinks President Obama is a socialist.
"I think that he believes in social justice, financial justice — you know, Jesus stuff that the GOP isn't understanding these days."
"But Jesus said a man should work for a living and not get a handout," Jackson responds.
"Jesus was about helping the poor, ma'am," he says. "I think you've got a different version of the Bible than I do."
Despite Jackson's over-the-top questioning, the demonstrators remained polite in response to what some might see as an over-simplified yet genial haranguing of the Occupy Wall Street protesters.
Watch Jackson's Occupy Wall Street excursion below:
Have a tip we should know? tips@mediaite.com