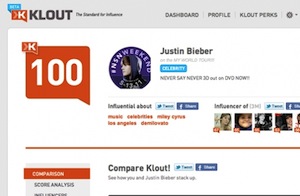 I've got Klout and I know how to use it. I apply it directly to my armpits. Sometimes I read it or listen to it or wear it. Some people can drive it or drink it. Hopefully not at the same time.
I'm talking about Klout Perks, the next step from the folks at the social media ranking site, Klout. While Klout Perks have been around for over a year, it seems the program has really picked up momentum lately. These days my Twitter stream is filled with people tweeting their latest perk. I joined Klout on a whim and rarely looked at the site after that, so I was surprised the first time I received a tweet from @KloutPerks notifying me I was eligible for a perk. I almost dismissed it as Twitter spam; along the lines of a free iPad or Walmart gift card. It wasn't until I saw others tweeting about their Klout Perks that I caught on that it was an actual thing. And it is a good thing.
Just in the last couple weeks I've received a $25 Macy's gift card and a $15 iTunes card. It's like free money just to tweet. My tweets aren't even all that interesting. Before the commenters jump in, yes, I know. Nothing is ever really free. I'm tweeting my soul away to "The Man" for a few freebies. -I don't know exactly who "The Man" is in this scenario, but I suspect plenty of people have their own ideas. I actually don't really care. I just like free stuff. In my eyes, this is a win-win for everyone; brands get publicity and potentially new customers, people get free things, and Klout gets whatever they get. I'm pretty sure it's revenue from their Perks partners, and that's okay too.
For people who have never heard of Klout, it works like this: Klout gives social media users a score between 1 and 100 based on their level of engagement across several social media platforms. The higher your score, the more influence you supposedly have. The average score is in the 20's, while popular media outlets and celebrities can have scores in the 80's. For some perspective, Oprah's score is 78 and Justin Bieber has the highest possible Klout score at 100. People are listed as "influential" about various topics. Sometime it's a good fit, and other times I wonder what I did to make them think I'm influential about West Virginia.
With Klout Perks, you're eligible for certain perks based on your score, location or influential topics. A perk could be a gift card, discount offer, early access to technology or an experience. The better perks tend to be reserved for those with higher scores. I bet Justin Bieber gets some awesome perks. My score fluctuated between 47 and 49 and allowed me some decent perks – until the recent algorithm changes dropped it like a rock. Okay, only down to 42, but I took it personally. The recent scoring changes have some users freaking out. It has nothing to do with not qualifying for free deodorant, but the loss of a bigger perk; status. Popular blogger @TheBloggess just saw her score drop from 86 to 69. That had to sting a bit.
Offering free loot in the hopes that the recipients will act as brand ambassadors and spread the word isn't new. Bloggers see their inboxes inundated with offers of free items in exchange for a write up all the time. What I love about Klout Perks is that I don't really have to do anything extra to earn them, and there's no pressure to share the details with everyone. There's an Influencer Code of Ethics that specifically says I'm under no obligation to talk about my freebies. I excitedly tweeted when I received a year supply of deodorant (that stuff is expensive!), but I didn't tweet when I received "VIP access" to a couple of Fox shows, because, well, that's not nearly as exciting as deodorant.
As a mom with a family on a budget, I also prefer the consumer outreach of Klout Perks than Groupon. I'm so over Groupon. Some of the Klout Perks partners offer deals as well, and I don't have to pay a dime for the discount, which I may or may not get around to using. The recent offer from Handbags.com is a good example. My perk was a $25 credit, which I applied toward a new purse. They made additional money off me, and I'll likely use them again. The same goes for the offer of free mini cards from Moo.com.
The only issue I have with Klout Perks is that the really great perks seem to be for big city dwellers, and since I live in more of a medium sized city, I feel like I miss out on a lot of cool offers. Like, that Chevy Volt I could have been taking for a test drive. If I were in Chicago. Or had a higher score. That could just be the jealousy talking. There's also the free Windows Phone for folks in New York City. I'm also a bit unhappy that I never qualify for the Subway gift card perk. After all, Klout is certain I'm influential in mustard. Yes, I said mustard. If that doesn't qualify me for a Subway perk then I don't know what does.
Have a tip we should know? tips@mediaite.com