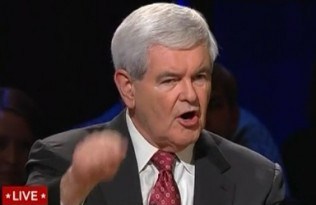 In today's Wall Street Journal, Dorothy Rabinowitz lays out a surprisingly strong argument on how Newt Gingrich could work his way up to the top of the polls and grab the Republican nomination. At the heart of her argument? "No candidate in the field comes close to his talent for connection," Rabinowitz writes. "There's no underestimating the importance of such a power in the presidential election ahead. His rise in the polls suggests that more and more Republicans are absorbing that fact."
Gingrich is, indeed, rising in the polls. According to the Real Clear Politics averages, Gingrich was at 4.4% on September 12, sitting in fifth place. As of yesterday, he had climbed to 12.2% and was in third. At this time four years ago, Rudy Giuliani (30%) was leading the polls for the Republican nomination, Fred Thompson (16%) was in second, and John McCain (15.6%), the eventual nominee, was in third.
Another way of tracking Gingrich's surging popularity as a candidate is through his appearances and mentions on television. Using TVEyes, a site that tracks and aggregates appearances on all television stations — from MTV all the way down to local news — one can see the Gingrich boom. His mentions and appearances have quadrupled in a month. In the second week of October, he was averaging 255.14 mentions on television per day. So far this week, he's averaging 943.15 mentions each day, trailing Herman Cain (8,215, but those numbers are inflated by the string of accusations), Mitt Romney (1,795), and Rick Perry (1,505).
Yes, Gingrich has some baggage, but it's becoming apparent that everyone in the GOP race has their baggage, as well. Mitt Romney's a flip-flopper, Rick Perry can't debate, Herman Cain may or may not have sexually harassed four women — and the list goes all the way down. But with Americans looking for some help with their finances and a way to fix the economy, an affair from 17 years ago might be consciously obscured by Gingrich's knowledge, historical observations, and "I can fix that" plans for almost everything that ails the country.
RELATED: Piers Morgan To Newt Gingrich: Is Your 'Bitterness' Toward The Media A Result Of Your Scandals?
A month ago, Gingrich was a joke, with even Saturday Night Live painting him as a disinterested bore who would gladly accept when offered the chance to leave the room. Heading into tonight's debate, however, he's a suddenly-viable candidate who seems to be getting stronger as each day passes.
Have a tip we should know? tips@mediaite.com