Washington Post's Charles Lane Savages 'Moral Repugnance' Of Chicago Teachers Union Strikers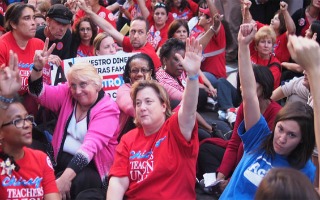 Washington Post opinion writer Charles Lane took to his column on Monday to offer a savage rebuke of the Chicago teachers presently after the city and the union failed to compromise on an appropriate increase in benefits. Lane details the disparity between the salaries of the teachers on strike versus those of the families of the students they teach – many of whom are impoverished minorities – and asks how the teachers can justify their actions.

"In Chicago, 85 percent of the roughly 400,000 public school students are either African American or Latino," Lane opens his column. "A similar percentage receives free or reduced-price meals, which means these students live at or near the poverty line: $27,214 for a family of three, in a typical case."
Lane writes that the average salary for a public school teacher in Chicago, approximately $76,000 per year, is nearly triple that of the families of the children they teach.
"I cannot describe the moral repugnance of this strike by aggrieved middle-class "professionals" against the aspiring poor," writes Lane. He says that this strike has sharply defined the critique of the Democratic party, which has to balance the conflicting concerns of minority constituencies and those of public sector union members.
Lane attacks teachers unions for opposing "common sense" reform approaches like inking job performance to compensation. He quotes Chicago's union president who recently wrote an a piece detailing how issues like homelessness, hunger, poverty and exposure to violence have a larger impact on a child's education than the competency of their educator.
"I believe this is what a certain former president meant by "the soft bigotry of low expectations,'" writes Lane.
Read the full post via The Washington Post
> >Follow Noah Rothman (@Noah_C_Rothman) on Twitter
Have a tip we should know? tips@mediaite.com