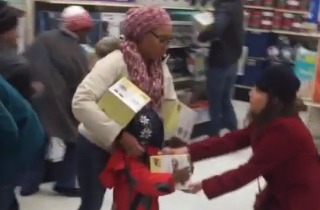 While this morning's battle in a Kentucky food court has set the standard for today's shopping frenzy, a new video has started circulating as proof that Black Friday brings out the worst consumer behavior in people.
While it is currently unclear where the video originates from, it shows a group of disgruntled shoppers shoving and tripping over a stack of vegetable steamers before rushing to pick one up. What makes this video remarkable, however, is that a woman comes up to a boy and presumably his mother, and quite literally, rips a discounted steamer out of the kid's arms.
The woman next to the boy didn't take this very well, for not a moment later, she starts prying the steamer out of the snatcher's hands while keeping hold of the two she already had.
"Give me that box!" the woman said before the snatcher began to scream. "Why are you being so aggressive?! You're scaring me," the second lady shrieked in the struggle.
The video's description says the video was shot in "Saginaw" (presumably Michigan), and said they were posting to YouTube anonymously because they don't want to be fired.
"I work at this store… and this lady stole a veggie steamer from a KID on black friday! Shame," the description said.
Since the day has only just begun, America may be able to expect more of these intense fights to break out as the day continues.
You can watch the fight in the video above.
[h/t NY Daily News]
[image via screengrab]
— —
>> Follow Ken Meyer (@KenMeyer91) on Twitter
Have a tip we should know? tips@mediaite.com