'We Are Part of a Far-Reaching Global Conspiracy': BuzzFeed Trolls InfoWars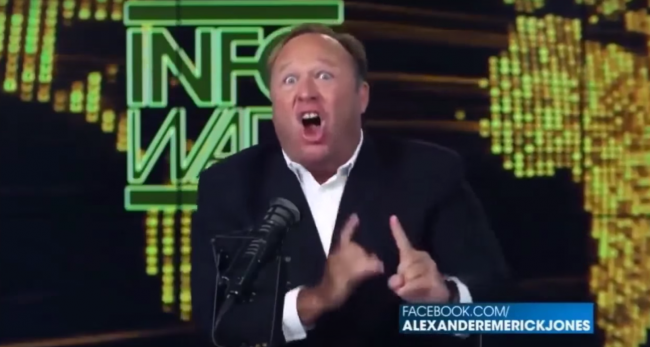 Hey, did you know that InfoWars founder — and apparent performance artist — Alex Jones likes to accuse different people and entities of being funded by billionaire George Soros as part of a vast liberal conspiracy?
If this is news to you, The Daily Beast helpfully aggregated a list today of the 183 organizations and 12 individuals who the noted conspiracy theorist has fingered as being bankrolled by Soros. Included in that list is the Beast itself, as well as news site BuzzFeed.
In an InfoWars video that the Beast highlighted, Jones stated that Soros was paying reporters for the two sites to get dirt on him.
"Soros doesn't want to put his name on it," said Jones. "He already funds David Brock and Media Matters. He already funds The Daily Beast, people who have investigative reporters following us around, digging up made-up dirt. Fiction writers. And BuzzFeed, all of the rest of them."
The Daily Beast reached out to BuzzFeed for comment, and their response was a perfect troll-job of Jones and InfoWars.
"I can only confirm that we are part of a far-reaching global conspiracy, but further comment would violate its most basic rules," a spokesman for BuzzFeed News, Matt Mittenthal, told The Daily Beast.
Currently, both BuzzFeed and The Daily Beast have reporters covering Jones' custody trial in Texas. The trial has given us the revelations that chili made him forget details about his kids, that he smokes marijuana once a year to monitor its strength and that he was diagnosed with narcissistic personality disorder. As the trial progresses, Jones has asked the press to be "respectful and responsible."
One interesting note here is this latest Daily Beast piece detailing everyone and everything Jones has labeled as being Soros-backed is similar in tone and scope to a BuzzFeed article last week that highlighted the more than 200 people and organizations Louise Mensch has accused of being under Russian influence.
[image via screengrab]
—
Follow Justin Baragona on Twitter: @justinbaragona
Have a tip we should know? tips@mediaite.com