'We Got Some Hillary Bitches On Here?': Passenger Disrupts Flight With Pro-Trump Rant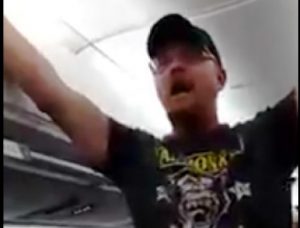 In a video shot by a passenger on a Delta flight to Allentown, Pennsylvania, a Donald Trump supporter caused a bit of a scene when he went on a pro-Trump tirade while demeaning those who voted for Hillary Clinton.
The clip, posted to Twitter by Daily Beast contributing writer Yashar Ali and provided to him by passenger Emma Baum, begins with an unidentified man addressing the other passengers, apparently trying to get them to talk about the election.
He asks them the following while clapping his hands, "Really? Ain't nobody gonna say no sh*t on this plane?"
After someone said they couldn't hear him, he made sure they could.
"You can't hear me," he exclaimed. "Donald Trump, baby!" He then pointed to another man, saying he knew what was up, before asking if there were any Clinton voters on the flight.
WATCH: Trump supporter calls women "Hillary Bitches" on flight to Allentown. Spoke to Emma Baum who shot video, @Delta did nothing. pic.twitter.com/2ZBjNCurNM

— Yashar (@yashar) November 25, 2016
"We got some Hillary bitches on here," the man wondered. "Come on, baby. Trump!"
The Trump-supporting passenger then continued on for a bit more, telling those seated that he was going to be president of every one of them and if they didn't like it, "too bad."
Yashar Ali contacted Delta over why no action was taken during the flight and was provided with the following statement:
. @Delta just sent me this statement in response to this video: https://t.co/9I4aAsFjp2
CC: @KeithOlbermann @SethMacFarlane pic.twitter.com/vnM6bjN8iA

— Yashar (@yashar) November 25, 2016
Watch video of the rant above, via Yashar Ali's Twitter account.
[image via screengrab]
–
Follow Justin Baragona on Twitter: @justinbaragona
Have a tip we should know? tips@mediaite.com