'We Recommend Clinton': Dallas Morning News Issues First Democratic Endorsement Since WWII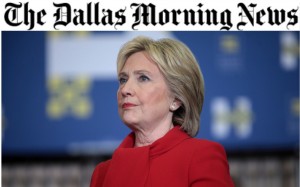 The opening lines of the Dallas Morning News editorial this morning say it all:
There is only one serious candidate on the presidential ballot in November. We recommend Hillary Clinton.
Yesterday, the editorial board for the Morning News indicated that a Clinton endorsement was in the works; they slammed GOP nominee Donald Trump on yesterday's pages, calling the real estate mogul turned politician, "…no Republican."
Today's historic endorsement marks the first time since World War II that a Democrat has earned the nod from the Lone Star State paper — "more than 75 years and nearly 20 elections," they point out.
The board continued its scathing takedown of Trump, writing:
We've been critical of Clinton's handling of certain issues in the past. But unlike Donald Trump, Hillary Clinton has experience in actual governance, a record of service and a willingness to delve into real policy.
They wrote, "Resume vs. resume, judgment vs. judgment, this election is no contest." The Dallas Morning News also indicated that Clinton's time in the State Department and her time working with Republican lawmakers on Capitol Hill were significantly contributing factors for the choice.
Of course, Clinton isn't the perfect pick; question remain about her honesty, points out the Morning News, and "her willingness to shade the truth." But in the scheme of things, "…they pale in comparison to the litany of evils some opponents accuse her of. Treason? Murder? Her being cleared of crimes by investigation after investigation has no effect on these political hyenas; they refuse to see anything but conspiracies and cover-ups."
In fact, the last time that the Morning News did not endorse the GOP nominee was when the party standard-bearer was Barry Goldwater in 1964, who got trounced in the general election to LBJ. "In this race, at this time, she deserves your vote," they conclude.
Read the full endorsement from the Dallas Morning News here.
—
J.D. Durkin (@jiveDurkey) is an editorial producer and columnist at Mediaite.
Have a tip we should know? tips@mediaite.com