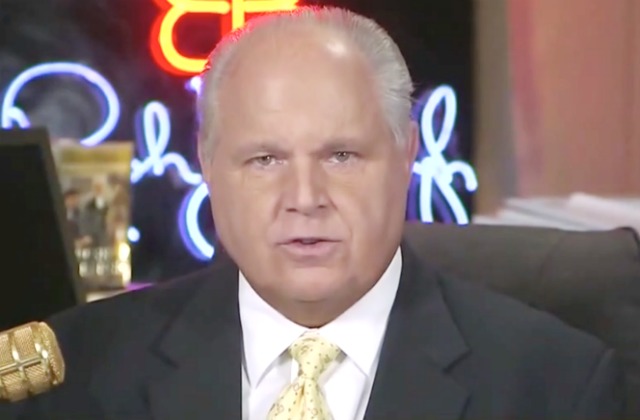 Conservative radio host Rush Limbaugh has taken a ton of heat over the past few days for essentially claiming that the warnings over Hurricane Irma — a massive Category 5 storm heading right for Florida — were related to a broader "deep state" conspiracy to promote climate change, force people to buy bottled water and increase the news media's ratings.
During his radio program yesterday, Limbaugh remained defiant, claiming that media accusations that he was placing people in danger by spreading conspiracy theories were completely untrue. And yet, at the same time, he doubled down on what he previously had said, accusing liberals of being excited about the storm because they hope it will push their agenda while again stating retailers and news outlets will benefit from the dire warnings.
But Limbaugh made a quiet admission — as his show is broadcast from South Florida, he will not be on the air today as he will need to flee due to the storm.
"May as well — announce this," Limbaugh told his audience. "I'm not going to get into details because of the security nature of things, but it turns out that we will not be able to do the program here tomorrow."
He noted that Mark Steyn will fill in as the host on Friday while explaining that he'll be back on the air next week, for "parts unknown." However, due to certain events, it would be "legally impossible" for him to do the show on Friday.
Limbaugh also lamented that he would be missing some other activities, like a free movie screening. And despite admitting that he was fleeing the state due to the decimating storm that was coming his way, Rush made sure to boast that the views he expresses on his show are "right 99.8 percent of the time."
After ThinkProgress first highlighted Limbaugh being among the evacuees, a number of folks took to Twitter to react:
life comes at you fast pic.twitter.com/A8zLbN92Qd

— Maegan Vazquez (@maeganvaz) September 8, 2017
After calling hurricane warnings a liberal hoax to push climate change agenda, Limbaugh quietly leaves S. Florida. https://t.co/OPke00izwu

— Steve Silberman (@stevesilberman) September 8, 2017
Earlier this wk, Rush Limbaugh claimed Irma was a liberal hoax to push climate agenda. Today, he's fleeing south FL.https://t.co/hkYtnikd26

— Facts Do Matter (@WilDonnelly) September 8, 2017
Rush Limbaugh on Tuesday: #Irma an attempt to push "climate agenda."
RL on Thursday: I'm evacuating South Florida.https://t.co/iPeZwhviyZ

— Bill McKibben (@billmckibben) September 8, 2017
Rush Limbaugh, after calling Hurricane Irma a lie to push a climate agenda, now looks to be evacuating south FL. https://t.co/26EiwhZ5uF

— Kyle Griffin (@kylegriffin1) September 8, 2017
Listen to the clip above, via KOGO-AM.
[image via screengrab]
—
Follow Justin Baragona on Twitter: @justinbaragona
Have a tip we should know? [email protected]