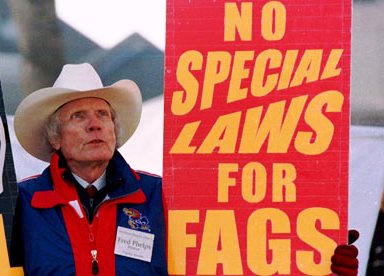 After decades of trying, Fred Phelps has finally managed to do the unthinkable: make atheists everywhere pray for the existence of the vengeful God he believed in. Of course that's only because it would also mean the eternal damnation he has so richly earned is forthcoming. The Westboro Baptist Church founder and desiccated, malevolent, hectoring human sphincter, is said to be close to death, according to a Facebook post from his estranged son, Nathan Phelps.
"He is now on the edge of death at Midland Hospice house in Topeka, Kansas," Phelps, who has been estranged from his father for decades, wrote. The elder Phelps, he said, was ex-communicated from his own church last year.
"I feel sad for all the hurt he's caused so many. I feel sad for those who will lose the grandfather and father they loved. And I'm bitterly angry that my family is blocking the family members who left from seeing him, and saying their good-byes."
A second estranged son, Mark Phelps, confirmed the reports to the Topeka Capital-Journal, although a spokesman for the church denied that he is near death.
Phelps, who will soon actually become a corpse, instead of just resembling one like he has for the last decade or two, is infamous for his stance that homosexuality is a sin based on his religious beliefs, a fringe opinion held by a mere 45% of Americans. He and his followers came to infamy for their frequent protests at the funerals of members of the military, and for their "God Hates Fags" slogan.
"Military funerals are pagan orgies of idolatrous blasphemy where they pray to the dunghill gods of Sodom and play taps to a fallen fool," he commented in 2006.
The actions of Phelps and his band of trolls have led to numerous laws being enacted over the years that require protesters to maintain a distance between their actions and funerals, including one that was recently upheld by a federal court in Missouri. In Kansas, where Phelps is said to be dying, a similar law exists. If the Westboro Baptist Church wants to picket the funeral of their founder there, they're going to have stay at least 150 feet away for an hour before and an hour after the hypothetical service. The rest of us will be content to celebrate everywhere else.
[photo via David Zalubowski/AP]
— —
>> Luke O'Neil is a journalist and blogger in Boston. Follow him on Twitter (@lukeoneil47)
Have a tip we should know? tips@mediaite.com