'What a Shameful, Shameful Day': Twitter Reacts to Trump Ending DACA Program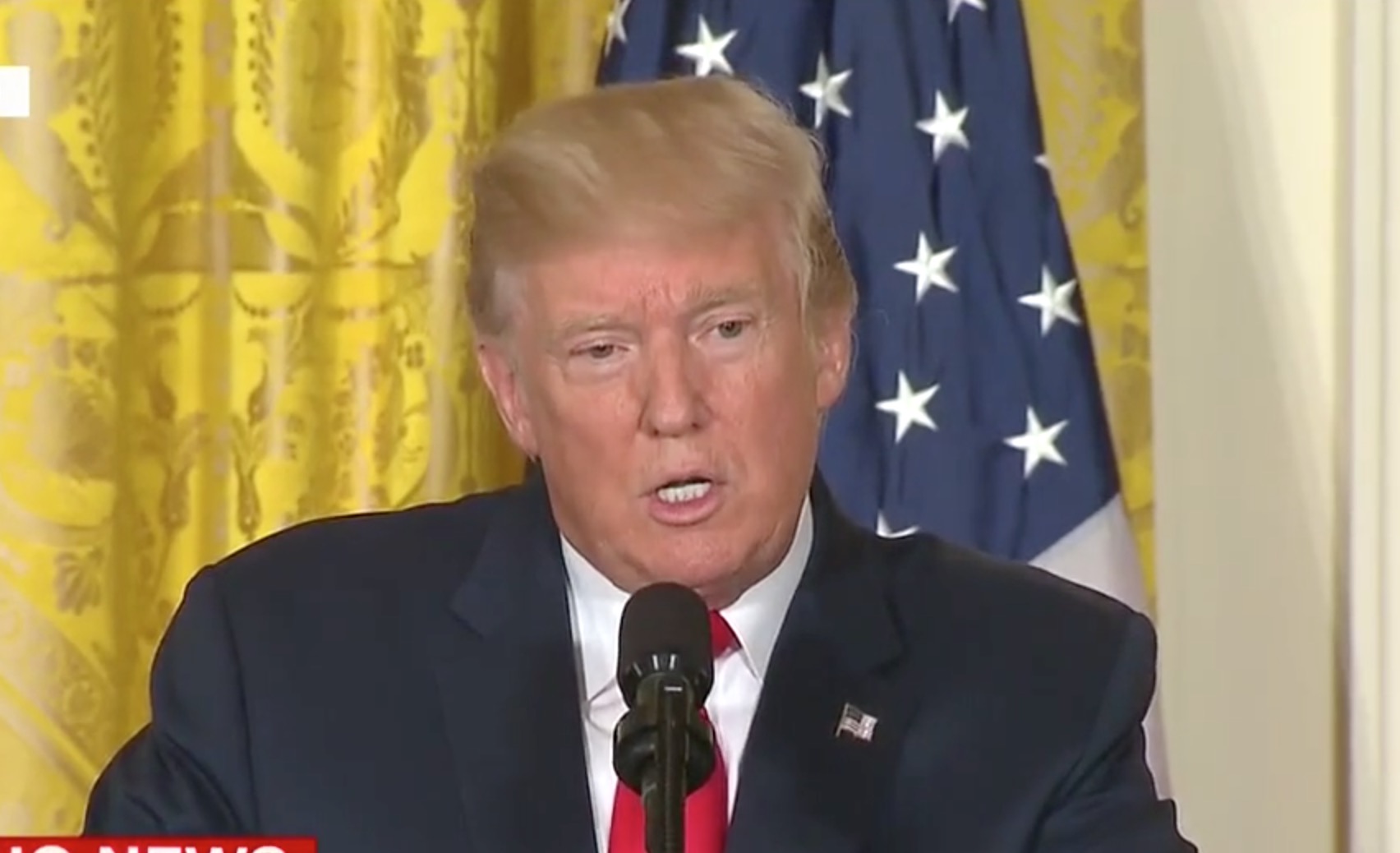 With President Trump's decision to kill the Deferred Action for Childhood Arrivals (DACA) program, Twitter is erupting with initial responses.
Reports indicated the Trump Administration would rescind DACA, and was preparing a strategy to handle imminent political backlash. As the White House predicted, plenty of people were furious with the news.
You can tell Trump's rolling back DACA from a position of strength because he's out there announcing it himself

wait

— Katherine Krueger (@kath_krueger) September 5, 2017
On behalf of all Americans with a heart I apologize to the dreamers for bigotry of trump's GOP. You deserve far better. #IStandWithDreamers

— (((DeanObeidallah))) (@Deanofcomedy) September 5, 2017
Republicans should be thinking long & hard about the message that's been sent to Hispanics w/ Arpaio pardon & now DACA. Big problem.

— Brian Walsh (@brianjameswalsh) September 5, 2017
Trump in Feb: "We're going to show great heart. DACA is a very, very difficult subject for me… You have some absolutely incredible kids"

— Monica Alba (@albamonica) September 5, 2017
Welcome to the land of Kim Jun Trump.

— Chelsea Handler (@chelseahandler) September 5, 2017
What a shamefull, shameful day….

— Jonathan Capehart (@CapehartJ) September 5, 2017
Hard to accept we now have Prez w/ so little true compassion for young men & women who love America. @CNN

— David Gergen (@David_Gergen) September 5, 2017
Fact that Sessions can't take questions about such a consequential policy shift is telling. https://t.co/nSFfpevJep

— Josh Kraushaar (@HotlineJosh) September 5, 2017
Some people — particularly those in MAGAland — welcomed the news:
Obama threw the constitution out the window and ruled by decree

Trump is restoring law and order #DACA

— Jack Posobiec ?? (@JackPosobiec) September 5, 2017
?Sessions ?going full Breitbart with this announcement

— Charlie Spiering (@charliespiering) September 5, 2017
You mean, he used the actual English language as opposed to the left's propaganda dictionary. https://t.co/5mjG4rutC3

— Joel B. Pollak (@joelpollak) September 5, 2017
Various Democratic politicians were predictably livid with the end of the program:
NEW: DNC Chair @TomPerez on DACA decision: "Donald Trump has secured his legacy as a champion for cruelty." https://t.co/8mRFr0wh4q pic.twitter.com/q66Mszwi1j

— Evan McMurry (@evanmcmurry) September 5, 2017
Donald Trump again shows that no child is too young or vulnerable, no step is too low, and why he is the worst President in modern history. https://t.co/bA7Jo7QJot

— Adam Schiff (@RepAdamSchiff) September 5, 2017
Subjecting Dreamers to mass deportation is part of the bigoted policies that are a cornerstone of @realDonaldTrump's admin. #DefendDACA

— Elizabeth Warren (@SenWarren) September 5, 2017
INBOX: Pelosi Statement on DACA Termination pic.twitter.com/5ITrcwL78K

— Ben Jacobs (@Bencjacobs) September 5, 2017
Republicans were generally more measured.
INBOX: Statement on DACA program from Speaker Paul Ryan pic.twitter.com/M9rYIZeQ0K

— Ben Jacobs (@Bencjacobs) September 5, 2017
MCCAIN says #DACA decision is the "wrong approach to immigration policy." pic.twitter.com/ENE6zKknEP

— Andrew Hanna (@AndrewBHanna) September 5, 2017
The ball is back in Congress' court where it belongs, and there are a lot of innocent kids counting on Congress to do its job. 3/5

— Jeff Flake (@JeffFlake) September 5, 2017
[Image via screengrab]
— —
>> Follow Ken Meyer (@KenMeyer91) on Twitter
Have a tip we should know? [email protected]