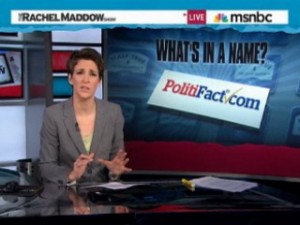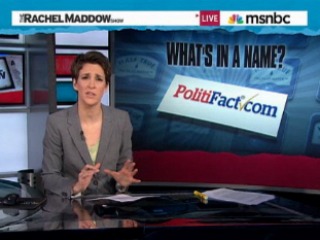 It's no secret MSNBC's Rachel Maddow is no fan of the fact-checking site PolitiFact. She has done a number of increasingly angrier segments on her show about the site's metrics for deciding whether something is the truth or maybe just the half-truth or maybe not quite the truth. And today, PolitiFact has now deemed a statement Maddow made two weeks ago to be "pants on fire." What prompted the site to give Maddow its harshest ranking? A claim she made about stringent abortion restrictions in the Ohio budget.
In the June 28th segment, Maddow called out Ohio governor John Kasich for planning to sign a state budget that would impose big limits on rape crisis centers and women who want to get abortions. She said the bill would require women to get ultrasounds before even getting an IUD, and proclaimed, "Welcome to your mandatory vaginal probe at the insistence of the state!"
Well, PolitiFact Ohio looked at that claim and drew very different conclusions from Maddow. The text of the bill (skip down to Sec. 2919.191 for the relevant portions) says that no one can perform an abortion in Ohio without first checking if there is a "detectable fetal heartbeat." This is the paragraph PolitiFact quotes to debunk Maddow's claim of mandatory transvaginal ultrasounds.
The director of health may promulgate rules pursuant to section 111.15 of the Revised Code specifying the appropriate methods of performing an examination for the presence of a fetal heartbeat of an unborn individual based on standard medical practice. The rules shall require only that an examination shall be performed externally.
PolitiFact concludes from the "performed externally" requirement that "Maddow's 'vaginal probe' claim [is] about as far as can be from the truth, into the realm of the ridiculous," rating it Pants On Fire.
You can watch the Maddow segment in question here, courtesy of MSNBC:
Visit NBCNews.com for breaking news, world news, and news about the economy
—–
Follow Josh Feldman on Twitter: @feldmaniac
Have a tip we should know? tips@mediaite.com
Josh Feldman - Senior Editor